Main content start
Fashion Communication (Sep)
Executive Series
Arts, Media and Culture
Fashion Communication (Sep)
Course Code: DPAM9026 | CE 68-043-28/51
Closed
enquiries
Ms. Grace Yu (also for corporate enquiries)
T: 2910 7626
Ms. Mandy Leung
T: 2910 7629
Programme
Overview

GAPs Executive Series
Executive and corporate training at GAPs puts together all research and teaching resource base of overseas institutions and HKU SPACE, to identify training gaps and to offer intensive, non-traditional executive development that brings significant and lasting impacts to both individuals and organisations.
Led by experienced academics and practitioners from the UK, our executive courses offer inspiring and stimulating practice-based insights and allow excellent opportunities for meeting with different senior executives from across the region. While our executive courses benefit from being led by a team of international faculties, we are putting an equal emphasis on local relevancy, combining global leading research and practice with local experience which will enable you to add context and perspective when making business decisions.
Welcome Messages
"This Executive Series is a tripartite project between GAPs, Central Saint Martins and The Mills that aims at fostering innovation, incubation and entrepreneurship amongst young and aspiring professionals in the local industry and is a project that builds on a long-term collaboration between the three institutions. The project seeks to make Hong Kong more competitive by engaging industry practitioners in innovation and technological advancement, thereby creating higher levels of economic growth and employment opportunities."

Ken Wong, Nick Wright,
Head of GAPs Director of Innovations & Business, CSM
GAPs Executive Series 2016 includes the following short courses:
ART MARKET AND BRANDING
CREATIVITY AND BUSINESS DESIGN
FASHION, PHOTOGRAPHY AND LIFESTYLES
Central Saint Martins, University of the Arts London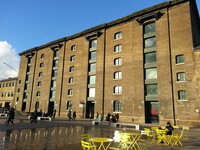 Central Saint Martins was formed from the merger of two historical art and design colleges, St Martin's School of Art founded in 1854 and Central School of Arts & Crafts founded in 1896.The two colleges merged to become Central Saint Martins, bringing together their internationally renowned traditions into a new dynamic formation.
Today, CSM is one of the world's premier arts, design and fashion colleges with a reputation based around the achievements of its graduates, current staff and students. CSM students are typically restless in developing beyond the accepted norms of their subject that places the college at the heart of London's dynamic creative scene.
With its 150 years of history, CSM's famous alumni include some of the most important British and international artists from famous painters such as Lucien Freud and Frank Auerbach who studied fine art at Saint Martin's in the middle of the 20th century; to Sir James Dyson, the industrial designer and founder of Dyson Industries; A.S. Byatt, the British author; Colin Firth, the actor and winner of BAFTA's Best Actor Award and to the latest wave of the world's celebrated designers including Katharine Hamnett, Marc Jacobs, John Galliano, Alexander McQueen and Stella McCartney.
The Mills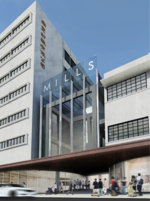 From the 1950s to the 1970s garment and textile manufacturing was Hong Kong's pillar industry. Since the 1980s, however, this industry has followed in the footsteps of traditional manufacturing's shift to the Mainland. As one of the largest textile mills, Nan Fung Group was a pioneer and pushed the boundaries of the industry. The year of 2014 marked Nan Fung Group's 60th anniversary, making the initiation of "The Mills", a heritage-meets-future project, especially meaningful.
The mission of The Mills is: to rejuvenate Hong Kong's fashion and textile industry; to foster innovation, creativity and entrepreneurship in Hong Kong; and to energise the development of Chai Wan Kok industrial district in Tsuen Wan. The major components of The Mills include: an incubation centre with a focus in fashion, textiles and related technology, supported by mentoring, training and venture capital; an online/ offline retail experience comprised of Hong Kong fashion-themed shopping, services and F&B at its revamped heritage mills, as well as online retail; and a gallery space to commemorate the old and showcase the new in Hong Kong fashion.
Content and
Teaching

Course Highlights
How does the fashion industry work?
How to become an innovative observer, writer, communicator and promoter, central to the industry's future ?
Fashion design is just the beginning of a huge industry that uses concepts of fashion promotion and communication to connect fashion with global audiences.
This course will give an overview of the workings of the fashion industry with specific reference to how fashion can be communicated and promoted creatively through different media including branding, trends, styling, photography, graphics and the creative use of new digital platforms.
Suitable for:
Professionals working in fashion or fashion-related areas for examples, fashion writers, journalists, editors, stylists, photographers, buyers, illustrators and retails; art directors, set-designers, fashion show producers, bloggers and social networkers and online-marketers or those who are interested in contemporary fashion design communications and promotion and in learning more about the fashion community or who are simply passionate about fashion.

Supported by:



Lecturer from Central Saint Martins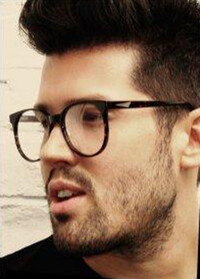 Hywel Davies
Course Leader for BA (Hons) Fashion Communication and Senior Lecturer at Central Saint Martins. Hywel has written for The Guardian, The Sunday Telegraph, The Financial Times and The Independent. Previously fashion editor at Sleazenation, he has also contributed to GQ Style, Arena, Vogue, Elle, Wallpaper, Nylon, Dazed & Confused, Modern Menswear, 100 New Fashion Designers, British Fashion Designers and Fashion Designers Sketchbooks all published by Laurence King. He is a consultant for fashion brands including Topman, Braun, Orange and Levi's and is currently the fashion features editor at Observer Man, a correspondent for SHOWstudio and consultant editor to ASOS Man.
Award and
Careers
Certificate of Attendance
Each participant will be presented with a certificate of attendance issued by Central Saint Martins, University of the Arts London at the end of the course, subjected to 80% of the attendance rate.
Fees and
Funding
Course Fee (3 days)
Standard rate: HK$15,500 (covering tuition, course materials and light refreshment), or
Special rate: HK$13,000 which applies to:
early-bird application two weeks before the course commences;
corporate or group enrolment with 3 or more registrations from the same organisation or
Executive Series alumni.

The Mills Scholarships
Each year, scholarships are given to young and talented practitioners enrolled to any of the GAPs Executive Series supported by The Mills. The Mills will select and will offer scholarships to the qualified candidates. Applicants will automatically be considered for the scholarships. Please contact programme staff for more details.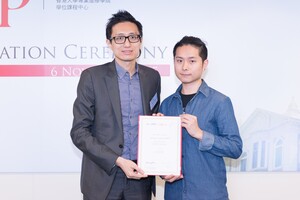 Students from Central Saint Martins Executive Course "Fashion Communication" - Mr. Cheung Yiu Hung and Ms. Cheung Ling were awarded The Mills Scholarships of HK$12,800 each. Photo was taken during the Presentation Ceremony 2015.

Application
Interested individuals can apply online by clicking here. Parties interested in group/ corporate booking please contact programme staff for further arrangements.
Notification
Applicants will be notified of the application result and will receive a letter of acceptance. Applicants will have to present the Payment Notification Form upon payment of course fee at any of the HKU SPACE Enrolment Centres.
Payment Methods
Cash or EPS, or
Crossed cheque payable to "HKU SPACE"
(Please specify the programme/course title, applicant's name, and HKU SPACE student card number, if applicable.)
Note: Holders of HKU SPACE MasterCard can enjoy a 10-month interest-free instalment period for modules with a tuition fee for a minimum of HK$2,000-HK$40,000, however, the applicant must also be the cardholder himself/herself. For enquiries, please contact our staff at any HKU SPACE Enrolment Centres.
Enrolment Counters
Click here to check out your nearest Enrolment Counters. Only Learning Centres with the icon

can process payment.
Notes to Applicants
Applicants may be required to pay the course fee in cash or by EPS if the course is to start shortly. Fees paid are not refundable except under very exceptional circumstances (refer to Note 2 and Note 3), subject to the School's discretion.
HKU SPACE reserves the right to cancel a programme/course in cases of insufficient enrolment or unforeseen difficulties arising from running the course. In such circumstances, course feess would be refundable.
In exceptional cases where a refund is approved, fees paid by cash, EPS or cheque will normally be reimbursed by a cheque, and fees paid by credit card will normally be reimbursed to the payment cardholder's credit card account.
In addition to the published fees, there may be additional costs associated with individual programmes. Please refer to the relevant programme brochures or direct any enquiries to the relevant programme staff for details.
Payment and enrolment to a programme/course cannot be transferred from one applicant to another. Once accepted onto a programme/course, the student is not allowed to switch to another programme/course. When a transfer is approved by International College under special circumstances, a processing fee of 10% of the course fee will be levied on every approved transfer.
Receipts will be issued for fees paid but HKU SPACE will not be responsible for any loss of receipt sent by mail. For additional copies of receipts, please call +852 2910 7629/7555.
If a short course is postponed due to unforeseen circumstances, including staff illness, flight delay or cancellation, HKU SPACE, and partner university if applicable, will make every reasonable effort to reschedule the class or to make up the schedule in the same week. HKU SPACE apologises for any inconvenience caused if this happens and urges you to ring the office at +852 2910 7629/7555 if you have any concerns.
The Director may, at his discretion, refuse to admit an applicant.
Due to copyright issues, and to allow a free exchange of ideas among participants, the use of audio and/or visual recording is strictly prohibited in class.
Entry
Requirements
Entry Requirements
Applicants should normally hold:
A bachelor's degree awarded by a recognised university, preferably with years of relevant management experience; or
A recognised tertiary level qualification, with substantial years of experience at executive level.
Student Work
and Activities
Students from GAPs Executive Course, in collobration with Central Saint Martins: "Fashion Communication" went site visit to The Mills in Tsuen Wan.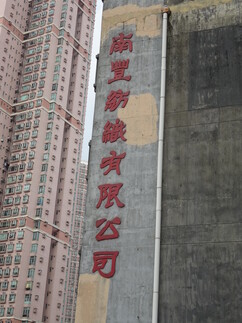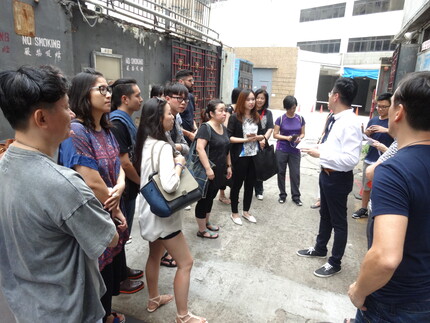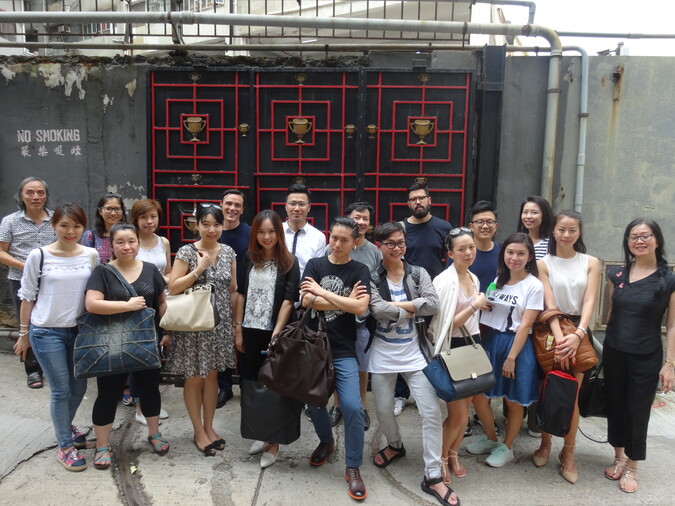 The Mills and MILL6 Foundation
The Mills is a landmark revitalization project from Nan Fung Group scheduled for completion in 2018, a celebration of shared industrial legacy with Hong Kong, and a step towards a future of applied creativity and innovation. The Mills is built on a foundation of legacy and heritage. Visitors can explore the continuity of an authentic Hong Kong story, where themes of textile and industry are woven into experiences of innovation, culture, and learning. MILL6 Foundation is a non-profit arts and cultural institution and a registered charity in Hong Kong. Established in 2015 and as part of The Mills heritage conservation project, MILL6 curates a series of programs consisting of: Permanent Collection, Exhibition, Community Engagement, Learning, Artist-in-Residence, Heritage and Public Art, to foster independent creative practice, as well as to explore new meanings and experience of the textile arts and techstyle innovation with local communities and international creative, the space is expected to complete in 2018.