Main content start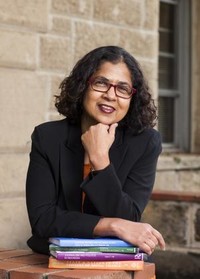 Biography
Professor Krishna Sen has held teaching and research positions at Murdoch and Curtin Universities, and was the Executive Director for Humanities and Creative Arts at the Australian Research Council in Canberra, just prior to taking up her position at UWA. Krishna is a Fellow of the Australian Academy of Humanities (FAHA) and founding member of the Australian Research Council's Asia Pacific Futures and Cultural Research Network. In 2014, Krishna was appointed to the Reference Group of the New Colombo Plan under Minister Julie Bishop. She is also a member of the Hawke Research Institute Advisory Board and serves on the editorial boards of several national and international journals.
Key Research
Indonesian media and culture; human rights in Indonesia; gender studies
Languages
English, Indonesian, Hindi, Bengali, Sanskrit
Memberships
Asian Studies Association of Australia
Hawke Research Institute Advisory Board
New Colombo Plan Reference Group
National Accreditation Authority for Translators and Interpreters Ltd.
Honours and Awards
Fellow of the Australian Academy of Humanities (FAHA)
Related Programmes