Main content start
Mary Lee-Woolf
Mary Lee-Woolf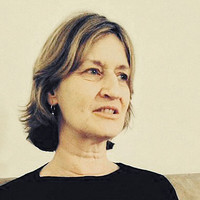 Mary Lee-Woolf is a Lecturer for BA (Hons) Media and Cultural Studies and MA Media Communication and Critical Practice at London College of Communication.
Mary is an artist, writer and filmmaker with over 30 years experience working in the creative industries across a broad sector including; film and television, theatre, art and design, publishing and fashion. Her professional career has not only spanned working as an artist in her own right but also undertaking extensive management and consultancy as well as teaching, research and writing.
Mary has worked as a lecturer at LCC in the School of Media since 2006 and now runs the Work Based Learning Unit for BA Media and Cultural Studies and MA Media and Communication. Mary sees her practice and freelance work as very much informing her teaching and is committed to making creativity a central part of the learning process.
Alongside her practice and teaching, Mary works as a freelancer on her own film and moving image projects as well as developing projects with Outsider TV. Her research interests are human rights, psychology and projects which link science technology and the arts, and her work has received many academic and public funding awards. Mary has a BA in Fine Art, MA in Enterprise and Management of the Creative Arts, Foundation Certificate in Film, and is an Associate member of the Imperial Society of Teachers of Dance.
Related Programme