Main content start
Dr. Paul Cook
Dr. Paul Cook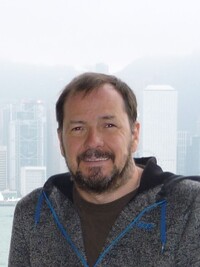 Dr Paul Cook, Senior Lecturer and International Franchise Coordinator, Sport, Exercise and Rehabilitation Department, University of Northumbria at Newcastle
Biography
Paul is a senior lecturer in sport management, with a teaching portfolio focused on marketing and entrepreneurship. He joined the university in 2006 having previously worked as a project development consultant. In a two-year period as a project development consultant, Paul secured £1.5m of research funding and £4m of training and business development funding for a diverse range of partners, including the education, health, catering, horticulture, and wider business sectors. In addition, Paul was also involved in a number of strategic planning groups, including a county council economic forum, a children and young people steering group, a sport development department, sport NGBs, local sport clubs, and employer forums. Paul lists the SMART women project as one of his proudest achievements in project consultancy. Working in partnership with Dr James Seligman, Paul developed a training programme for entrepreneurial women to provide them with the support that they required to progress their business ideas and careers to the highest levels. The SMART women project continues to have a positive impact on empowering female managers, and has been replicated and developed throughout Europe.
Paul uses the skills and knowledge acquired working for an SME and as a project development consultant in his current roles. As a senior lecturer, Paul leads a marketing module on the MSc International Sport Management programme and the entrepreneurial focused sports event management module for final year BSc Sport Management students. Having previously been the sport management programme leader, securing NSS scores in the high 90s, Paul is now the franchise coordinator for the delivery of collaborative ventures with international partners. This role involves ensuring that the sport degree programmes franchised to our partners meet the exacting learning and teaching quality standards demanded by our university and their government's department of education. On a day-to-day basis, Paul ensures that the student experience and staff operational process are identical to the home programmes.
Prior to working as a project development consultant and later joining the Northumbria lecturing staff, Paul had worked for an engineering SME. He left engineering to return to study as a mature student, completing the BSc Surf Science and Technology degree at the University of Plymouth. During his studies, Paul worked as a surf coach at the national surfing centre in Newquay, where he was mentored by the British team coach. Securing a first class honours, Paul then studied for an MA (with distinction) Sport Coaching and Development at UWIC. Throughout this period of study, Paul worked for Sport.Cardiff as a volunteer; consistent with his MA dissertation topic, he developed a research culture in the department with the aim of creating an evidence-base for policy.
Research
With a background in communicating ideas to others, Paul's research interests are themed around how information is shared and interpreted. In his doctoral thesis, Paul employed Stanley Fish's anti-foundationalist theory of interpretive communities to develop a novel method of segmenting postmodern consumers. He combined marketing, consumer culture, and sociological theories to explore the complexity of authentic identity construction through consumption.
Paul's research interests are:
Marketing communication
Branding – co-creation and meaning
Consumer culture in the digital era
Event management and evaluation
Relational sociology / material semiotics
Creating / maintaining authenticity
Post-Marxist / new hegemony methods to explore the assumed politics of difference in gender studies
Surfing / surf culture
Key Publications
Hardcastle, K., Cook, P., and Sutherland, M. (2018). Co-Creating Brand Meaning: How Much Is the University Sport Brand Impacting Students' Conversion Journey and Identity Construction in English Higher Education? 26th European Association of Sport Management Conference. Malmo, Sweden.
Cook, P. (2016). Co-creation and collaboration: A postmodern surfing tribe's response to co-optation and mainstreaming. Academy of Marketing Conference, Northumbria University, UK
Hardcastle, K., Cook, P., Sutherland, M. (2016). Engaging the consumer: A netnography of the student journey within the English HE sector. Academy of Marketing Conference. Northumbria University.
Cook, P. (2016). Real world Interpretive Communities – An Innovative Theoretical and Methodological Approach. American Culture Association; Oceanic Popular Culture Conference, Honolulu, HI.
Cook, P. (2010). 'Mickey Mouse', Surfing and the Commodification of Higher Education Degrees in the UK, American Culture Association; Oceanic Popular Culture Conference, Honolulu, HI.
Cook, P. (2009). Gathering of the Clans: the evolution of the Scottish surfing subculture, American Culture Association; Oceanic Popular Culture Conference, Honolulu, HI.
Related Programme