Main content start
[FINAL CALL]《Religious Operas 101》- Cantonese Opera in HK
Information Seminars and Events
[FINAL CALL]《Religious Operas 101》- Cantonese Opera in HK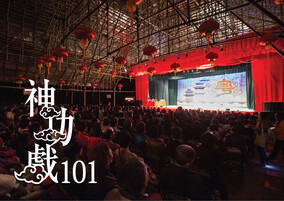 《Religious Operas 101》-
Cantonese Opera in the Hong Kong Religious Context

The stylistic development of Chinese traditional theatre has been shaped by religious opera from its earliest origins to the modern day. Every year, up to 40 series of Cantonese opera and more than 200 shows take place in Hong Kong. Organised by local communities, and staged by professional troupes in temporary bamboo theatres, the performances celebrate the birthdays of gods and provide sacred and secular entertainment to highlight purification rituals and initiation rituals for new temples.

Using ethnographic data and images collected over 30 years around Hong Kong, this talk looks at aspects such as: features of traditional religions, organisation of performances, related religious rituals and secular activities, formation of opera troupes, artists and performances, and the inevitable but sad decline of a tradition whose preservation depends on its self-sustainability and ability to respond to the challenges of a market-oriented economy.
Date:
12 August 2017 (Saturday)
Time:
3:00-4:15PM
Venue:

HKU SPACE International College, Room 608, 6/F, United Centre,

95 Queensway, Admiralty (Admiralty MTR Exit D) MAP

Language:
English

Prof. Chan Sau-yan read music and philosophy at the Chinese University of Hong Kong before embarking on doctoral studies at the University of Pittsburgh under the supervision of Professors Bell Yung and Deane Root. He taught at the Music Department of the Chinese University of Hong Kong from 1987 to 2007, where he founded the Cantonese Opera Research Programme and Chinese Opera Information Centre, and served as Associate Director of University General Education. He recently returned to Hong Kong after a seven-year stay in Wales, where he learned Welsh folk dance and creative writing. He is the author and editor of twenty academic books on the musical structure, performance practice, ethnographic and historical aspects of Cantonese opera, including Improvisation in a Ritual Context: The Music of Cantonese Opera(Chinese University Press, 1991). At present he is a writer-cum-researcher.

Fee:

Free admission. Limited capacity on a first-come, first-served basis, please register in advance.
《神功戲101》
神功戲和祭祀有關的表演,是中國戲曲的傳統,相信由新石器時代至二十世紀初,一直在塑造中國各地戲曲劇種的風格特徵。在香港,神功戲演出的傳統亦保存至今,每年約有四十個地方社群聘請專業承建商搭建戲棚,和聘請專業戲班演戲,為神誕、太平清醮、盂蘭節打醮、廟宇開光和其他傳統節日提供娛樂。

本講座根據過去三十年實地考察所得資料和實地拍攝照片,簡單探討:(一)傳統地方信仰的特點;(二)神功戲的籌辦過程;(三)有關的神功和世俗活動;(四)戲班的結構;(五)戲班成員素描;(六)神功戲演出特點;(七)神功戲傳統逐漸消失、演出場次逐漸減少,和市場主導經濟的關係,以及神功戲面對的挑戰。
2017年8月5日 (星期六)

[此廣東話講座現已額滿,英文講座尚餘少量座位]

香港大學專業進修學院 國際學院
統一教學中心(金鐘統一中心6樓612室-金鐘港鐵站D出口)MAP

語言:
廣東話

陳教授早年在香港中文大學及美國匹茲堡大學取得音樂學士及民族音樂學博士學位,1987年至2007年在香港中文大學音樂系任教,歷年發表專著有《神功戲在香港:粵劇、潮劇及福佬劇》(1996;2012年再版)、《儀式、信仰、演劇:神功粵劇在香港》(1996;2008年再版)等;英文著作有 Improvisation in a Ritual Context: the Music of Cantonese Opera(1991)和論文多篇。近作有《唐滌生創作傳奇》(2016)。他在2008年初移居英國,2015年回香港定居;現從事粵劇研究和寫作。

費用:
費用全免,先到先得。需先作網上登記。
Online Registration only available for《Religious Opera 101》English session, to be held on 12 August 2017 (Saturday).
查詢及報名
電話:2910 7645 / 2910 7626
電郵:exe.ic@hkuspace.hku.hk
主辦機構:西九文化區管理局 (WKCDA)
項目合作夥伴:國際學院
back