Main content start
BA (Hons) Media and Cultural Studies
Undergraduate Programmes
Communications and Cultural Studies
BA (Hons) Media and Cultural Studies
媒體及文化研究(榮譽)文學士
Course Code: 1645-DP013A (CE 68-801-00/81)
enquiries
Ms. Stefanie Au
T: 2910 7613
Programme
Overview
Programme Overview
This comprehensive programme enables you to take a critical look at culture and the mass media. It looks at how media products are produced and circulated, and put this in the context of the wider society we live in and the different cultures we belong to. You will learn about photography, newspapers, film, documentary and the internet, and also how these relate to broader issues like glocalisation, consumer culture and new technology.
媒體及文化研究(榮譽)文學士課程旨在加深學生對文化及傳播媒體的認識並提升他們對相關議題的批判能力。本課程會幫助學生深入了解媒體及文化產品的生產過程,以及這些產品如何在市面流通及被消費。修讀課程的學生也會了解全球化、消費主義、科技發展等對攝影、報章、電影、紀錄片以至互聯網行業所造成的衝擊。
Middlesex Online Programme Information & Alumni Sharing New
Programme Highlights
The longest running overseas undergraduate programme in media and cultural studies in Hong Kong. Since 2002, there are over 2,000 graduates and a rapidly growing alumni network in the field;
Over 100 graduates enrolled in media, communications and cultural studies master's degree programmes in local and overseas universities;
Enhancing students' critical understanding of a wide range of traditional and the new media, from TV dramas, films, the Internet to the social media.
課程特色
本課程於2002年起在香港開辦,至今超過十四年歷史,亦是本港首個媒體及文化研究文學士的國際學位課程。課程多年來吸引超過二千名媒體、傳播及社會科學的副學位畢業生就讀,其中不少已投身傳播行業,校友網絡在業界愈趨完善。
逾百位課程畢業生在本地及海外著名大學進修跟媒體及文化研究相關的碩士課程。
課程訓練學生以不同角度分析電影、電視劇集、互聯網、社交媒體等等傳統及新媒體,內容廣泛並切合當代社會對傳媒專才的需求。
Middlesex University London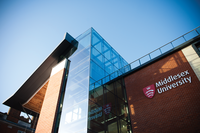 Middlesex is an international university with roots in North London. The University is committed to meeting the needs and ambitions of a culturally and internationally diverse range of students by providing challenging academic programmes underpinned by innovative research and professional practice.
Middlesex is an outstanding teaching university. Working with over 180 prestigious international academic partners, Middlesex is the first British university to achieve the highest rating possible for their collaborative provision around the world. According to the previous report from the Quality Assurance Agency (QAA), the auditors showed confidence in the University's current and likely future management of its academic standards and of the learning opportunities available to students.
Middlesex is also one of very few universities to have been awarded three Queen's Anniversary Prizes for Higher and Further Education.
倫敦密德薩斯大學
倫敦密德薩斯大學位於倫敦北部,一直致力為來自不同地區及國籍的學生,提供專業、高質素的大學課程,並積極鼓勵他們進行創新研究。
現時有超過180間學術機構成為倫敦密德薩斯大學的合作夥伴。倫敦密德薩斯大學憑著出色的學質素,成為了英國本土首間得到英國高等育質量保證署,給予其國際育合作計劃「最高評價」學術榮譽的大學。英國高等育質量保證署在最近期的評估報告中亦指出,倫敦密德薩斯大學有能力持續為學生提供高質素學水平。
倫敦密德薩斯大學更屢獲「英女皇週年紀念榮譽獎(高等育及持續進修育)」,是少數三次獲頒此殊榮的英國高等院校。
倫敦密德薩斯大學是全英國最佳的媒體專才訓練院校之一,其相關的媒體學系自2007年起一直獲官方機構認可為 Skillset Media Academy,表揚大學訓練創意產業專才的表現。Skillset是英國政府及創意產業業界資助的機構,致力扶持媒體企業及培訓相關的專業人才,以鞏固英國創意產業世界一流的地位。現時英國有20多所Media Academy,倫敦密德薩斯大學是其中獲頒授此資格的院校之一。
Middlesex Skillset Media Academy

In 2007 Middlesex was awarded the Skillset Media Academy status by the Government Department for Innovation, Universities and Skills. This status recognises the excellence and forward-looking nature of the University's media-related courses and education delivered to students.
The Skillset Media Academy Network is a national footprint of colleges and universities that work with industry in developing the new wave of media talents in the UK. The Network was devised by Skillset and is now made up of more than 20 academies, drawing together creative education partnerships from colleges and universities across the UK.
Welcome Message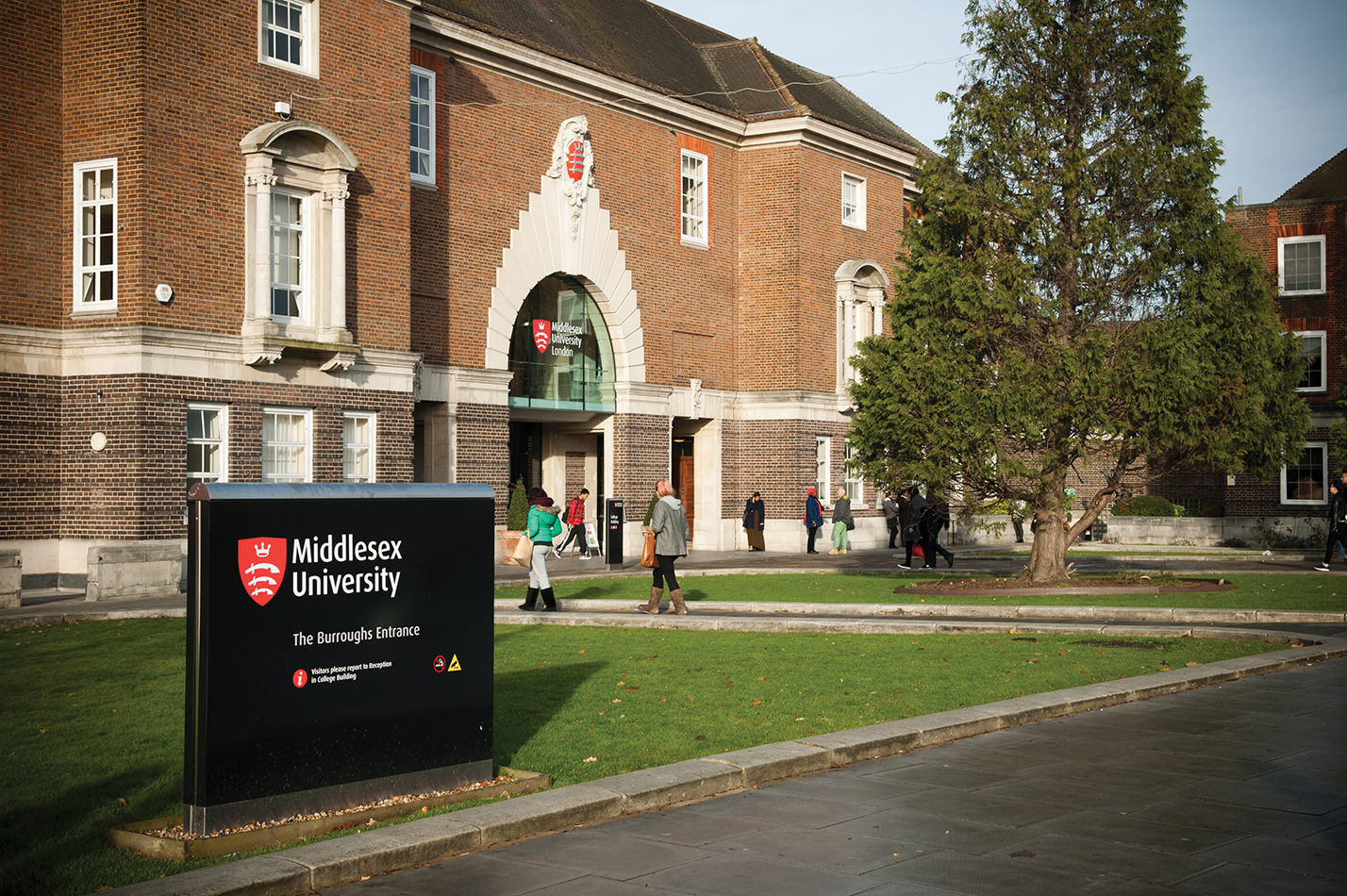 As a student on BA (Hons) Media and Cultural Studies at HKU SPACE you are enrolled on a programme which is franchised by Middlesex University, London. Your programme is quality assured and managed through our School of Art and Design at Middlesex University and you will meet our University link tutor at your Boards of Study.
The School of Art and Design is proud to collaborate with HKU SPACE in overseeing your programme. Our work with collaborative partner institutions is one of our great strengths. From our hub in North London we work with collaborative partners in the UK and overseas in Hong Kong, and Greece. We are actively working with new partners all around the world and we have our own campuses in Dubai and Mauritius. So you are part of a thriving global community.
Art and Design is a dynamic School, with an enviable reputation in the UK and across the world. Our School is very proud of its award winning success in the Creative Industries. Our academic staff are acknowledged as world class researchers and internationally renowned practitioners.
We have more than 2,000 students studying at our Hendon campus in North London, within easy reach of the vibrant cultural centres in the UK's capital. In line with the rest of Middlesex University, the School offers a global perspective - we attract students from every continent, bringing together people from different backgrounds and allowing them to draw on different perspectives in their learning.
We have spent more than GBP 200 million on our new campus, which boasts the most up to date studios and workshops in the UK. The campus has been designed as an inspirational place to think, create and learn, equipped with the latest technologies and extensive exhibition and performance spaces throughout.
I am certain that your forthcoming period of study will be challenging, rewarding and, above all, enjoyable. I am equally certain that solid achievement on your course will provide you with a positive start in your chosen career, or a springboard for career development if you are already in employment. I wish you every success with your study with Middlesex University.
The Dean's Office
Middlesex University London
Content and
Teaching
Programme Structure
The entire programme consists of 12 modules. Enrolled students will be granted an exemption from 4 modules, normally equal to the first year of study. With this exemption, students are required to complete only 8 modules in 18 months (including a summer break).
Year
Module Title
Credits
Year 2
Research Techniques and Approaches
30
Advanced Media Production
30
Media and Participation
30
Visual Cultures
30
Year 3
Independent Project
30
Transgressive Culture
30
Culture, Consumption and Identity
30
International and Digital Public Relations
or
Issues in Promotional Culture
30
Total
240 credits

The module Culture, Consumption and Identity has been included in the list of reimbursable courses for Continuing Education Fund (CEF) purposes.
The above programme structure is intended for use as a guideline to prospective students. The University reserves the right to modify sequencing of modules within the structure.
Duration of Study
With full exemptions, students can complete the enrolled programme in 18 months (including a summer break).
Teaching Mode
All media-related BA (Hons) programmes employ a variety of teaching and learning modes. The unique nature of these programmes enables a range of teaching formats to be used - these include lectures, seminars, tutorials, practical workshops and individual consultation sessions. There are normally 12 face-to-face contact hours including lectures and tutorials and 4 hours of voluntary consultation session per week.
Assessment
There is no examination component in all media-related BA (Hons) programmes. Students are assessed through a combination of group presentations, video productions, multimedia projects and individual essays, depending on the subject areas. All assessment is moderated by external examiners in the UK who are independent senior academics charged with monitoring and maintaining standards.
Teaching Staff
Programme Leaders

CRONIN, Theresa
(Middlesex University)
BA, MA Lancaster; PhD Lond
CHEUNG, Frankie
(HKU SPACE)
BSocSc HKBU; MPhil CUHK; MIPA HK

Teaching Staff - HKU SPACE

| | |
| --- | --- |
| CHAN, Thomas | MA CUHK |
| CHEUNG, Frankie | BSocSc HKBU; MPhil CUHK; MIPA HK |
| DANG, Beatrice | BA Murdoch; MA, MPhil Birmingham |
| LEUNG, Rosette | BSocSc CUHK; MSc Lond |
| KWONG, Eric | BA HKU; MA Lond |
| TANG, Wesley | BA CityU HK; MPhil HK |
Award and
Careers
Award
Upon satisfactory completion of the programmes, students will be awarded the Bachelor of Arts (Honours) Media and Cultural Studies by Middlesex University London.
Work Placement Opportunities
Opportunities for work placement are available for students of the aforementioned programmes. Over the past few years, media and communication students in IC have been put in notable media corporations and establishments including Burson-Marsteller, Cable TV, HK Airport Authority, HK Tourism Board, Metro Daily, Men's Uno, McCann Erickson, Milk, RTHK, South China Media, SCMP and Sing Tao News Corp. etc.
Career Opportunities
Specialist knowledge of the media and communications industries and their products provide our graduates with a strong academic background to go on to work in a variety of areas of the media, for example, journalism, broadcasting, publishing, cultural management or media research.
Further Studies
A significant number of graduates have chosen to enter postgraduate programmes, taking courses in media studies, cultural and literary studies, mass communications and media management, both at master's and doctoral levels.
Graduates with the BA (Hons) awards are also eligible to progress onto the Postgraduate Diploma (PgDip) in Media and Cultural Critique, awarded within the HKU system through HKU SPACE or MA Media, Communications and Critical Practice in Hong Kong and other local and overseas master's degree programmes.
Progression Path

Fees and
Funding
Tuition Fee
The tuition fee* for 2018/19 intake is HK$16,500 per module (8 modules in total, depending on exemptions granted), payable in 4 instalments.

* The tuition fee is reviewed annually and is subject to change without prior notice.
Continuing Education Fund
The module Culture, Consumption and Identity has been included in the list of reimbursable courses for Continuing Education Fund (CEF) purposes. For details, please refer to www.wfsfaa.gov.hk/cef.
Extended Non-means-tested Loan Scheme (ENLS)
Students are eligible to apply for the HKSAR Government's Extended Non-means-tested Loan Scheme (ENLS). The maximum financial assistance under the ENLS is equivalent to the total tuition fee payable to the HKU SPACE in the academic year. For details, please refer to the website of Student Financial Office (SFO) of the Working Family and Student Financial Assistance Agency (WFSFAA).
Entry
Requirements
Entry Requirements
Applicants shall normally hold:
Associate of Arts
Associate of Social Sciences
Associate of Arts in Legal Studies
Associate of Business Administration
Associate of Applied Social Sciences in Communication, Public Relations and Journalism
Higher Diploma in Public Relations and Corporate Communications
Higher Diploma in Translation and Interpretation
Normally for those applicants whose first language is not English, IELTS 6.0 is required. Graduates of the HKU SPACE Associate Degree/ Higher Diploma, or an equivalent qualification from a recognised institution in Hong Kong, are being regarded as demonstrating the required English proficiency.
Applicants with other qualifications (or partial completion from a recognised tertiary institution/ a private university) that are a fitting preparation for this programme can also apply.
Student Work
and Activities
CSM London Summer Study Programme
This programme organised by IC provides a valuable opportunity for students to enroll into a short course in Central Saint Martins College of Arts and Design (CSM), one of the world's leading institutes for arts and design education with 150 years of history.
IC-ECNU Shanghai Winter Study Programme
This programme enables students to broaden their intercultural outlook by exploring Shanghai's past and present, discovering local culture, lifestyle and art development. They can also experience East China Normal University's campus, hall life and study with ECNU students.
Note(s)
This is an exempted course under the Non-local Higher and Professional Education (Regulation) Ordinance. It is a matter of discretion for individual employers to recognise any qualification to which this course may lead.
This programme is designed, assessed and quality assured by Middlesex University.