Main content start
Bachelor of Arts (Honours) Social Sciences
Undergraduate Programmes
Social Sciences
Bachelor of Arts (Honours) Social Sciences
社會科學 (榮譽) 文學士
Course Code: 2245-DP026A (CE 68-504-00/41)
enquiries
Ms Priscilla Lau
T: 2508 8862
E:
priscilla.lau@hkuspace.hku.hk

Programme
Overview
Programme Overview
This programme is designed to educate, inform and inspire students to face the complexities, challenges and opportunities of the 21st century. Graduates will be well placed to meet the needs of Hong Kong society, in particular for careers with government agencies and the social service sector. The specialist knowledge and transferable skills embedded in the programme will produce graduates capable of managing highly complex and stimulating jobs.
The programme combines the study of different social science disciplines such as psychology, sociology, cultural geography and politics. From the perspectives of these related and fascinating disciplines, students will learn to examine, investigate and understand human life and human experience. Students will develop a detailed understanding of the research skills to investigate, the social world, relationships within it and the social forces that act on us all. This knowledge and specialist skills will be particularly useful to employers across all sectors.
Programme Highlights
Co-teaching by lecturers from Edinburgh Napier University and local lecturers of related disciplines;
Local lecturers of related disciplines applying theories to local contexts; and
Opportunity for study in the UK

Programme Information & Sharing from Programme Leaders
Edinburgh Napier University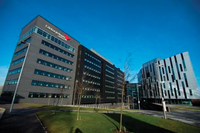 Located in Scotland's cosmopolitan and beautiful capital city, Edinburgh Napier University is home to forward thinking people inspired by the world around them. The University aims to create and support personalised learning and research opportunities that develop talent and solutions that really work and matter in today's and tomorrow's world.
With more than 6,300 overseas students from outside the European Union, Edinburgh Napier is a truly international university with students from 110 countries. Edinburgh Napier has been offering professional degrees in Hong Kong for more than 20 years. The university is proud to be the largest UK provider of Higher Education in Hong Kong, with over 3,000 students a year studying a range of courses.
As a testament to our commitment to being connected with business and industry, the university is among the top in the UK for graduate employability, with 95% of undergraduates in further work or study within six months of graduating (HESA 2016/17). It also means that courses are accredited by over 100 Professional Bodies. The University is also ranked a top 10 UK Modern University for a number of courses such as Accounting and Finance, Building, Civil Engineering, Criminology, English, Psychology and Sociology. (Complete University Guide 2020, Times and Sunday Times 2020 and Guardian University Guide 2020).
In the 2019 QS Stars international university rankings, the University scored five stars in categories including teaching, internationalisation and employability, and four stars overall.

Ranked the top UK modern university for Criminology and a top 10 UK modern university for Sociology & Psychology in the Times & Sunday Times Good University Guide 2020.
Welcome Message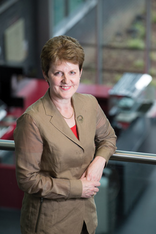 Professor Andrea Nolan
Principal & Vice Chancellor
We are proud that Edinburgh Napier is a collaborative partner of Hong Kong University School of Professional and Continuing Education. Our longstanding partnership continues to develop highly skilled people specialising in a range of disciplines. We have been active in Hong Kong for more than twenty years and are now the largest provider of UK higher education here.
Our courses at HKU SPACE cover festival management, biology, financial services, engineering, marketing and business management. They are well aligned with the needs of industry and, against a changing social and economic landscape, offer a balance between practice and academic theory.
The study of psychology, sociology, cultural geography, politics and related disciplines gives students an insight into human experience, and equips them for a variety of careers in government agencies and social services. An understanding of social sciences and the manner in which people influence the world around them can provide a stepping stone to jobs in counselling, social work, teaching, the financial services and the criminal justice system.
We hope that everyone who embarks on an Edinburgh Napier programme finds it stimulating and enjoyable, and we look forward to many more years of Edinburgh Napier University students supporting Hong Kong's key industries and enriching their communities. With more than 9,000 alumni, you will be joining a large network to support your future development.

Professor Andrea Nolan
Principal & Vice Chancellor
Edinburgh Napier University
More Programmes:
Content and
Teaching
Programme Objectives
To develop the ability to appreciate and evaluate theory, research findings and applications in social science; and encourage the development of critical thinking about the nature of social processes and social issues;
To allow the students to understand and conduct research in social science, both as members of groups and individually utilising a range of research methods, both quantitative and qualitative, through a programme of planned research training;
To encourage independent and autonomous learning, ensuring that students assume increasing levels of responsibility for their own learning as they progress;
To provide students with the opportunity to develop a range of specific and specialist skills that lead to a variety of careers in social science, postgraduate education and research as well as in other professions.
Programme Intended Learning Outcomes (PILOs)
A. Knowledge and understanding
On completion of this programme of study, students will have knowledge and understanding of:
A1. Key concepts, theories, research methods and findings in sociology and other social science disciplines;
A2. Real life applications of social science theories and findings, with specific detailed knowledge in selected applied areas;
A3. Current debates within social science on the current nature of the disciplines, their research paradigms and their applications, drawing on an understanding of historical antecedents;
A4. Critical evaluation of theory, methodology and research in key areas of sociology, geography, psychology, criminology and politics.
B. Skills and other attributes
On completion of this programme of study, students will be able to:
B1. Identify appropriate primary and secondary sources of information on social issues and research original material with minimal supervision in order to assess, interpret and critique multiple sources of information;
B2. Communicate using visual and written methods including be able to write reports to appropriate standards and present information effectively as a member of a group and as an individual;
B3. Manage own learning, undertake a project using appropriate methodology under minimal supervision including dealing with complex ethical issues with an awareness of professional standards;
B4. Evaluate arguments and knowledge of sources related to society.
Programme Structure
The entire Bachelor of Arts (Honours) Social Sciences programme, as delivered in the home country consists of 480 credits to be completed in four years under the Scottish Higher Education system. Applicants who possess the entry qualifications and are approved by Edinburgh Napier University would qualify for direct admission to the Third Year of the programme, and will be required to complete 240 credits for graduation.
Year
Module Title

Year 3

Work Psychology (20 credits)
Social Psychology 2 (20 credits)
Violence and Society (20 credits)
Social and Cultural Landscapes (20 credits)
Environment, Politics and Society (20 credits)
Researching the Social Sciences (20 credits)

Year 4

Preparation for Honours Project (20 credits)
Social Identities (20 credits)
Organisational Psychology (20 credits)
Science, Technology and Society (20 credits)
Honours Project (40 credits)
The above programme structure is intended for use as a guide by prospective students. HKU SPACE and Edinburgh Napier University reserve the right to vary the structure if required.
Duration of Study
With full exemptions, students can complete the programme in two years, full-time mode.
Teaching Mode*
The teaching methods include weekly lectures and tutorials.
Assessment
There will be a range of different forms of formative and summative assessment including essays, reports, examinations, oral presentations, research proposals and projects.
On Campus Transfer
Students on the Bachelor of Arts (Honours) Social Sciences programme in Hong Kong will be eligible to apply for transfer to Edinburgh to study a trimester or a full year of the programme at ENU. The international student fee will apply with a discount.
Teaching Staff
Programme Leader

MCQUEEN, Fiona
(Edinburgh Napier University)
MA Edinburgh; MRes Edinburgh; PhD Edinburgh

KWOK, Rosa

(HKU SPACE)

BGS IU; MSc, PhD York (UK)

Teaching Staff - Edinburgh Napier University

| | |
| --- | --- |
| CIMINI, Nicholas | BA; MSc; PhD Sheffield |
| GUMA, Taulamt | BSc UCL; MSc; MRes; PhD Glasgow |
| HADDOW, Christine | LLB Edinburgh; MSc Edinburgh; PhD Edinburgh |
| HANNA, Bridget | BSc OU; MSc Nottingham; PGC in Education |
| MCQUEEN, Fiona | MA Edinburgh; MRes Edinburgh; PhD Edinburgh |
| PIOTROWSKA, Barbara | BA; PhD ENU |
| SHARAPOV, Kirill | BA; MA; PhD Glasgow |

Teaching Staff - HKU SPACE

| | |
| --- | --- |
| CHUK, Tim | PhD HKU |
| LAW, Victor | BA LondU; MSc LSE; PhD LondU |
| LEUNG, Corrina | BA; MPhil HKU |
| LOW, Adrian | PsyD, CPsychol, MSPS, MISCP |
| LUI, Lydia | BEd; MPhil CUHK |
| OU, Antony | BSocSc; MPhil CUHK |
| WAN, Tom | BA Hull; MSc LSE |
| YU, Isaac | BSoSc; MSc; Registered Counsellor |
*Given special circumstances such as COVID-19, the School may substitute face-to-face classes with online teaching if necessary. We will contact students concerned with details of such arrangements before the class starts or during the classes as necessary.
Award and
Careers
Award
Students who have successfully completed the programme will be awarded Bachelor of Arts (Honours) Social Sciences degree by Edinburgh Napier University. An exit award of BA Social Sciences ordinary degree is available for students who only complete 120 credits of the programme.
Career Opportunities
As would be expected from a broadly-based programme, there is a wide range of first destinations. Graduates with degrees in Social Sciences may find employment in a wide variety of careers in government or nongovernment organisations, including positions in the helping professions, such as social care and support for vulnerable people, social service, personnel management and careers advisers.
Further Studies
Graduates with the Bachelor of Arts (Honours) Social Sciences award may apply for a postgraduate diploma or a taught master's degree programmes or research degree programmes in related disciplines offered by local or overseas institutions.
Fees and
Funding
Tuition Fee
The tuition fee** for 2024/25 intake is HK$60,600 per year.
**This is a tentative rate for Academic Year 2024/25 and is subject to review.
FINANCIAL ASSISTANCE SCHEMES
The programme is accredited by the Hong Kong Council for Accreditation of Academic and Vocational Qualifications (HKCAAVQ). Full-time students are eligible to apply for Hong Kong government grants and low-interest loans, i.e. Financial Assistance Scheme for Post-secondary Students (FASP) and Non-means-tested Loan Scheme for Post-secondary Students (NLSPS). For details, please refer to www.wfsfaa.gov.hk/sfo.
IC Scholarship
Entry
Requirements
Entry Requirements
An applicant shall:
1. hold an Associate Degree/ a Higher Diploma/ an Advanced Diploma in Social Sciences/ Applied Social Sciences such as General Social Sciences, Sociology, Psychology, Criminal Justice, Youth or Social Services, etc. with a minimum cumulative GPA of 2.0;
and
2. demonstrate English proficiency by having a minimum overall score of 6.0 on the IELTS or 550 on the TOEFL.

Graduates of HKU SPACE Associate Degree/ Higher Diploma/ Advanced Diploma, or graduates from a recognised institution where the normal medium of instruction is English, are normally regarded as having demonstrated the required English proficiency if they have obtained grade "C" or higher in the English course(s) of their respective Associate Degree/ Higher Diploma/ Advanced Diploma programmes.
Applicants with other equivalent qualifications in a related social science discipline such as psychology, sociology, guidance and counselling, social welfare, legal studies, public policy and administration, etc. will also be considered. Applicants who hold qualifications that do not include sociology and psychology themes and an appropriate research methods module shall be required to undertake the following preparatory modules in advance of admittance to the Edinburgh Napier programme: "Introduction to Sociology", "Introduction to Psychology" and "Introduction to Social Research Methods" offered by HKU SPACE.
Student Work
and Activities
CSM London Summer Study Programme
This programme organised by IC provides a valuable opportunity for students to enroll into a short course in Central Saint Martins College of Arts and Design (CSM), one of the world's leading institutes for arts and design education with 150 years of history.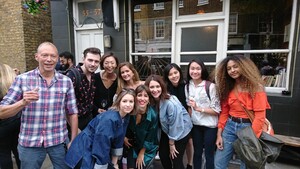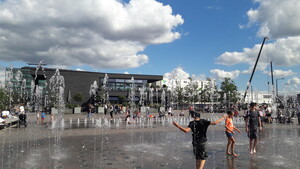 Note(s)
This is an exempted course under the Non-local Higher and Professional Education (Regulation) Ordinance. It is a matter of discretion for individual employers to recognise any qualification to which this course may lead.