Main content start
Bachelor of Science (Cyber Security)
Undergraduate Programmes
Information Technology
Bachelor of Science (Cyber Security)
網絡安全理學士
Course Code: 1945-DP116A (CE68-544-00/11) / 1945-DP116A (CE68-545-00/11)
New
enquiries
Ms. Alice Wong
T: 2975 5781
Programme
Overview
PROGRAMME OVERVIEW
The programme aims to provide students with the practical and theoretical dimensions of IT security across a range of fundamental areas, such as network security and vulnerability assessment, information security, digital forensics, wireless device security and database security. Students will achieve a solid grounding in conventional computer and network security concepts and skills. In addition, the programme is designed to meet the changing landscape of secure computing which involves not only computers but also telecommunications networks and network enabled devices such as smartphones and tablet devices.
PROGRAMME HIGHLIGHTS
Applying comprehensive knowledge of concepts, principles and techniques in the cyber security discipline;
Exploring various digital technologies and cyber security software tools for assessing and evaluating cyber security information; and
High-quality teaching delivered by specialist staff through a variety of teaching methods and activities.
Programme Features - Studying Cyber Security at ECU
Edith Cowan University 伊迪斯科文大學​

ECU was granted university status in 1991 and today we have more than 31,000 undergraduate and postgraduate students. We also have one of the most diverse student populations in Australia, with around 7,000 international students from more than 100 countries. Our comprehensive and diverse range of degrees have been developed in consultation with industry groups and our teaching staff have extensive industry experience, so you can expect industry-relevant teaching and research in a supportive study environment.
Computing and Security at ECU
ECU is recognised as a leader in cyber security. Our computing and security courses offer a range of majors to choose from, studying in world class facilities. Our cyber security research and education team is one of the best in Australia and highly respected globally. ECU has been recognised by the Australian Federal Government as one of just two Academic Centres of Cyber Security Excellence in Australia, and the only one in Western Australia. ECU plays a key role in the $139 million Cyber Security Cooperative Research Centre, which has its Head Office at the ECU Joondalup Campus. Developing the best computing skills In the latest QILT survey, ECU was ranked Australia's top university for undergraduate skills development in the Computing and Information Systems discipline.*
*QILT results are based on hundreds of thousands of surveys completed by students from the 37 public and 4 private universities across Australia. QILT is an annual independent Australian government survey

Content and
Teaching
PROGRAMME STRUCTURE
This programme consists of 23 modules (15 credits each, except for Applied Project with 30 credits). Students who complete all modules (360 credits) will obtain Bachelor of Science (Cyber Security).
Year of Study
Module Title
Year 1
Professional Science Essentials
Programming Principles
Mathematics for Computing
Systems Analysis
Applied Communications
Computer Security
Computer Fundamentals
Systems and Database Design
Year 2
Cryptographic Concepts
Introduction to Information Warfare
Scripting Languages
Information Security
Network Security Fundamentals
Project Methods and Professionalism
Software Reverse Engineering
Computer Forensics
Year 3
Ethical Hacking and Defence
Data Analysis and Visualisation
IT Security Management
Wireless Security
Applied Project
Application Development
Threat Detection Systems
The above programme structure is intended for use as a guide to prospective students. HKU SPACE and Edith Cowan University reserve the right to vary the structure.
Students may attend classes for some modules in weekday evenings and/or weekends.
TEACHING MODE
The teaching methods include weekly lectures and tutorials..
ASSESSMENT
The mode of assessment is different from module to module but will be generally based on a combination of coursework (including assignments and tests/ projects). Throughout the programme, students will be assessed by a combination of:
Report Writing
Oral Presentation
Individual / Group Project
Online Tests
Examinations
Award and
Careers
AWARD
Upon satisfactory completion of the programme, students will be awarded Bachelor of Science (Cyber Security) by the Edith Cowan University.
FURTHER STUDIES
Graduates of the Bachelor of Science (Cyber Security) are eligible to apply for MSc Cyber Security (offered by HKU SPACE in collaboration with Manchester Metropolitan University) or other relevant postgraduate programmes.
Fees and
Funding
TUITION FEE
The tuition fee* for 2021/22 intake is HK$180,000 (Year 1 entry); and HK$125,000 (Year 2 entry).
For Year 1 entry: HK$180,000
For Year 2 entry: HK$125,000
| Year | Tuition Fee (HKD) |
| --- | --- |
| Year 1 | HK$55,000 |
| Year 2 | HK$60,000 |
| Year 3 | HK$65,000 |
* The tuition fee is reviewed annually and is subject to change without prior notice.
EXTENDED NON-MEANS-TESTED LOAN SCHEME (ENLS)
Students are eligible to apply for the HKSAR Government's Extended Non-means-tested Loan Scheme (ENLS). The maximum financial assistance under the ENLS is equivalent to the total tuition fee payable to the HKU SPACE in the academic year. For details, please refer to the website of Student Financial Office (SFO) of the Working Family and Student Financial Assistance Agency (WFSFAA).
IC Scholarship
(for all CC and HPSHCC AD/HD Graduates) 
Applicants from HKU SPACE CC/HPSHCC graduates or alumni are entitled to a scholarship of HK$7,000 for enrolling on an IC undergraduate programme in 2021/22. If students achieve a CGPA of 2.8 or above in your sub-degree programme, they will be awarded an additional incentive of HK$5,000 (total scholarship amount: HK$12,000).
To be eligible for the scholarship and/or the incentive, students are required to pay the deposit as stipulated in the conditional offer letter or the tuition fee as stipulated in the final offer letter, whichever applicable, on or before the payment due date. The total scholarship amount (either HK$7,000 or HK$12,000) will be disbursed to students after the commencement of the programme on which they have successfully enrolled.
Entry
Requirements
ENTRY REQUIREMENTS
1. For entry to Year 1, applicants shall:
i) have an aggregate of 15 points in the Hong Kong Diploma of Secondary Education (HKDSE), Made up of the best 5 subjects with a minimum of 2 core subjects, all at level 3 or above, and excluding any category B subjects; or
ii) hold an equivalent academic qualification approved by Edith Cowan University.
2. For direct entry to Year 2, applicants shall hold:
i) a Higher Diploma in Information Security / Higher Diploma in Information Technology / an Associate Degree of Engineering (Computer Science Theme / Computer Engineering Theme) awarded within the HKU system through HKU SPACE; or
ii) an equivalent academic qualification approved by Edith Cowan University.
Applicants in 1 ii) and 2 ii) shall demonstrate English proficiency if their first language is not English with:
i) GCE O levels at Grade C; or
ii) an overall IELTS 6.0 with no individual band less than 6.0; or
iii) a score of 550 in the paper-based TOEFL; or
iv) other evidence of English language proficiency accepted by Edith Cowan University.
Note: Applicants may be required to attend an interview and/or take an English test. Applicants with relevant work experience will be considered on individual merit.
Student Work
and Activities
CSM London Summer Study Programme
This programme organised by IC provides a valuable opportunity for students to enroll into a short course in Central Saint Martins College of Arts and Design (CSM), one of the world's leading institutes for arts and design education with 150 years of history.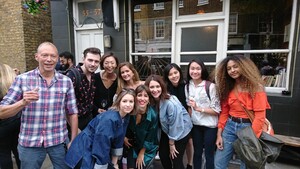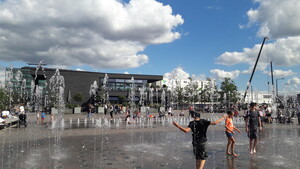 Note(s)
Edith Cowan University, Australia CRICOS Provider Code: 0279B
Bachelor of Science (Cyber Security), CRICOS Course Code: 077146A
This is an exempted course under the Non-local Higher and Professional Education (Regulation) Ordinance. It is a matter of discretion for individual employers to recognise any qualification to which this course may lead.​