Main content start
Postgraduate Diploma in Media and Cultural Critique
Postgraduate Programmes
Communications and Cultural Studies
Postgraduate Diploma in Media and Cultural Critique
媒體及文化分析深造文憑
Course Code: 1545-DP012A (CE 68-101-00/71) (September 2017 Intake)

QF Level: 6 QR Registration No.: 10/000058/6 (Postgraduate Diploma in Media and Cultural Critique) Validity Period: 01/09/2010 to on-going
QF Level: 6 QR Registration No.: 16/000907/L6 (Postgraduate Certificate in Media and Cultural Critique) Validity Period: 01/09/2016 to on-going
Programme
Overview



(Application for February 2018 Intake to be announced soon).
Consultation Session
The application fee of HK$150 will be waived for application forms submitted at the time of the seminar.
Other than the above mentioned timeslots, you are most welcome to make an appointment that best suits your schedule. Please email pg.ic@hkuspace.hku.hk or call (852) 2910 7626 / 7645 for making the reservation.

​Programme Overview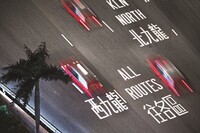 In recent years, there have been growing debates about the city's cultural development, ranging from media ecology, television and film industries, to performing arts and museum development, which have all become great concerns amongst the public.
This programme is structured:
to help students understand the inter-relations between the media, culture and society,
to engage students in the critical analysis of local and global cultural issues, and
to recognise the impact of the media towards society.
The importance of prioritising the creative sector and cultural industries in Hong Kong will enable degree holders from other academic disciplines (for examples, Business, Marketing, Design or IT) to convert to this social sciences based programme so as to prepare them for any future career in the media and cultural industries. Non-Hong Kong residents, including mainland Chinese, are eligible to apply.
近年社會對本土文化發展日益關注,由傳媒生態到電視、電影、表演藝術及博物館發展,均成為大眾討論的焦點。不論政府、工商或文化界別,也愈來愈重視具有相關訓練、且能深入分析社會文化現象的專業人才。
媒體及文化分析深造文憑課程,針對本地近年的社會文化發展,以及對媒體及文化專才的需要而設計。課程為期七個月,學員在修讀期間,能夠接觸到人文及社會科學中主要的研究方法與理論,對媒體、傳播,以至普及文化現象等深入分析。講師會引導學員:
(一) 解讀媒體、文化及社會發展之間的關係;
(二) 提高他們對本地及全球文化的分析能力;及
(三) 剖析傳媒對社會的影響力。
本課程亦為已具有其他學士學歷的專業人士提供培訓;也適合擁有一定工作經驗並期望轉至創意文化管理、媒體相關行業的人士報讀。非香港居民可報讀。
Programme Highlights
Interdisciplinary focus on social sciences, media and cultural studies;
Analytical skills and research methodologies specifically for arts, media and cultural management;
Suitable for local and overseas degree holders from disciplines other than arts, media and culture.
HKU School of Professional and Continuing Education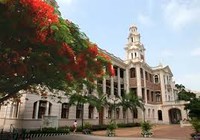 Established in 1956/57, The University of Hong Kong's Department of Extra Mural Studies (DEMS) was the first continuing education unit in a university in the region. In 1992, DEMS was renamed as the School of Professional and Continuing Education (HKU SPACE). As the continuing education arm of the University, HKU SPACE now fulfills its mission through providing learning opportunities for personal, professional and career advancement for people from all walks of life. With over 1,000 full-time staff members and some 2,100 part-time teachers, HKU SPACE is a leading local provider in continuing education. Annual course enrolment is close to 90,000.
HKU SPACE also collaborates with a wide range of academic institutions globally (in the UK, Australia, the USA, Mainland China and Hong Kong). The School will continue to explore opportunities for further cooperation with reputable institutions, both local and overseas, in order to offer a greater variety of high quality and relevant programmes to students.
香港大學專業進修學院
香港大學校外課程部於1956/57年正式成立,是香港首個由大學開辦的校外持續教育部門,為廣大社會人士提供終生學習的機會,並於1992年易名為香港大學專業進修學院。學院目前擁有逾千名全職員工及約2,100名兼職導師,在本港的持續教育界擔當領導角色,每年報讀人次約九萬。學院亦與多所本港及世界各地,包括英國、澳洲、美國和中國內地等的學術機構合作。未來學院會進一步開拓與其他本地及海內外知名學府的合作機會,以發展更多元、更切合學員需要的優質課程。
Content and
Teaching
Programme Structure
The programme aims to develop the study of media and cultural institutions, ideologies and policies as part of social and economic reality. Its design has a specific rationale, beginning from a semester which aims to provide a comprehensive foundation in research methods and critical approaches to media and cultural studies, through another semester which provides a grounding in the media (including social media) and then visual and socio-cultural content, giving graduates the possibility of undergoing further study in media and cultural studies, communication studies, creative industries, arts and cultural management.
In order to complete the programme, students are required to study four modules:
Semester
Module Title
Credits (66-72 credits)
Semester 1
(3 months)

Students are required to take TWO core modules:

• Researching Media and Culture

• Media and Cultural Critique

15

15

Semester 2
(3 months)

Students are required to take another TWO modules:

• Visualising Cultures

• Media and Popular Culture

• Media Regulation & Management

• Ecology of Art Collecting#

15

15

15

15
Note: The above programme structure serves as a guideline to students. HKU SPACE reserves the right to modify the structure. Students are only allowed to enrol onto the Postgraduate Diploma programme. If a student does not successfully complete the entire Postgraduate Diploma programme but has completed the two modules in Semester 1, HKU SPACE may consider awarding the student a Postgraduate Certificate in Media and Cultural Critique.
#Additional fees of HK$8,500 apply for students taking the "Ecology of Art Collecting" module in collaboration with Central Saint Martins. Subject to approval.
Duration of Study
The programme can be completed in seven months (including a 4-week semester break).
Teaching Mode
The unique research and application nature of this programme enables a variety of teaching modes to be used, including seminars, tutorials, guest lectures, professional workshops as well as guided independent study.
Assessment
Depending on the nature of individual modules, students will be assessed by a combination of individual essays, research assignments, article reviews, class and/ or site visit reports, photoblogs, group projects and presentations, multimedia works and one written examination.
Access to HKU Libraries and Sport Facilities
All postgraduate students enrolled in IC will have full access to HKU libraries and sport facilities which are located in Pokfulam and are within easy reach from IC's Admiralty campus by bus and now by MTR.
Teaching Staff
Programme Leader

| | |
| --- | --- |
| CHEUNG, Frankie | BSocSc HKBU; MPhil CUHK; MIPA HK |

Teaching Staff - HKU SPACE

| | |
| --- | --- |
| CHEUNG, Frankie | BSocSc HKBU; MPhil CUHK; MIPA HK |
| LEUNG, Rosette | BSSc CUHK; MSc Lond |
| TANG, Wesley | BA CityU HK; MPhil HK |
Award and
Careers
Award
Students who have successfully completed all four modules will be awarded the Postgraduate Diploma in Media and Cultural Critique. The award granting body of this postgraduate qualification is The University of Hong Kong.
Further Studies
Postgraduate Diploma is widely recognised around the world by employers and academic institutions. Graduates will have the opportunity and the required background to further their studies at master's level or above - thus, various options, both professional and academic, would become available to them in the burgeoning fields of cultural industries, PR and media management.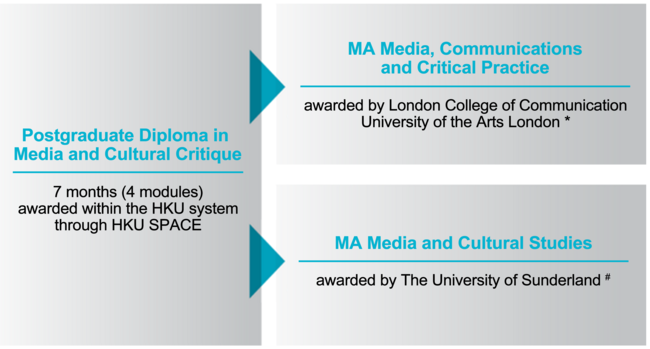 MA Media, Communications and Critical Practice
Leading to MA qualification offered by UAL's London College of Communication
Graduates of this programme are eligible to apply for the MA Media, Communications and Critical Practice* offered by the London College of Communication, University of the Arts London at HKU SPACE, with an exemption of 60 credits, out of the total 180 credits. With the credit exemption, PgDip in Media and Cultural Critique graduates will only be required to complete 3 units in the programme for the MA qualification.
MA Media and Cultural Studies
Graduates of this programme are eligible to apply for the MA Media and Cultural Studies# offered by the University of Sunderland, with an exemption of 120 credits, out of the total 180 credits (equivalent to all coursework modules). Thus, they will only be required to satisfy the dissertation requirement in the UK for the MA qualification.
*MA Media, Communications and Critical Practice is an exempted course under the Non-local Higher and Professional Education (Regulation) Ordinance. It is a matter of discretion for individual employers to recognise any qualification to which this course may lead.
#Graduates are required to satisfy the dissertation requirement in the UK for the MA qualification. Where the graduate's first language is not English, additional evidence of language competency may be required.
Fees and
Funding
Tuition Fee
The tuition fee for 2017/18 admission is HK$18,750 per semester (two semesters for the entire programme).
Financial Assistance
Students are eligible to apply for the Extended Non-means-tested Loan Scheme (ENLS) administered by the Hong Kong Government Student Finance Office (SFO). The maximum amount of the financial assistance under ENLS is the total tuition fee(s) payable in the 2016/17 academic year. For details, students should refer to ENLS website: http://www.wfsfaa.gov.hk/sfo/eng/schemes/nlss.htm.
Entry
Requirements
Entry Requirements
Applicants should normally hold:
a bachelor's degree in the areas of Humanities, Social Sciences, Performing Art, Design, IT or Business, awarded by a recognised university; or
a recognised sub-degree qualification, or equivalent, and have at least two years of relevant work experience;

and

an IELTS score of 6.5 (no band less than 6.0) or equivalent (for graduates of tertiary institutions where English is not the medium of instruction).
Additional Notes to Non-Hong Kong Resident Applicants
To study in Hong Kong, all non-local applicants are required to obtain a student visa issued by the Immigration Department of the HKSAR Government, except for those admitted to Hong Kong as dependants, who do not need prior approval before taking up full-time studies. It is the responsibility of individual applicants to make appropriate visa arrangements. Admission to an academic programme/course at HKU SPACE International College (IC) does not guarantee the issue of a student visa. Applicants may wish to note that courses are generally not considered by the Immigration Department for visa purposes except for self-financed, locally accredited taught postgraduate programmes awarded within the HKU system through HKU SPACE.
Note(s)
QF This programme is recognised under the Qualifications Framework. For details of the QF level, registration number and validity period, please visit: www.hkqr.gov.hk.