Main content start
Governance of International College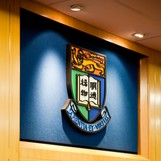 The overall operation is managed by the Head of International College. The Head is also responsible for implementing strategic policies established by SSM. The execution of all operational matters is assisted by the College's Administrative Team. All academic matters are managed by the Head, the Associate Head and the relevant programme leaders within HKU SPACE. Meetings with programme leaders and senior staff members in International College are held on a monthly basis.
Programme Selection and Approval
Because of the extreme importance of having high quality undergraduate and postgraduate programmes offered through International College, the selection and the approval of programmes have to go through a very rigorous process. The approval process for a new programme is a lengthy and closely scrutinised one. Any new programme proposal going through the entire process of selection to its final approval is carefully planned and meticulously executed to ensure that the highest international standard is met.
Quality Assurance
Since many of the programmes offered in International College are in collaboration with partner universities, most of them have a long history and have withstood the test of time. Notwithstanding this fact, these programmes have to be closely scrutinised by senior academics and industry professionals before accepting them for launching in International College. Some professional programmes will also be subjected to advice and accreditations by HKCAA&VQ and professional bodies, e.g. HKICPA, thus providing further quality assurance.
The quality of teaching and learning is assured by having the programmes offered by highly qualified and experienced academic staff. The performance of teaching quality is regularly monitored by various academic committees, peer reviews, class visits, learning experience surveys and staff-student liaison committees. Student performance is regularly monitored by mid-term tests, assignments, in-class presentations, group projects and examinations. Academic results are independently moderated by external examiners who are senior academics in the United Kingdom, Australia and Hong Kong.