Main content start
Full-time Undergraduate Programmes, Postgraduate Programmes and Executive Courses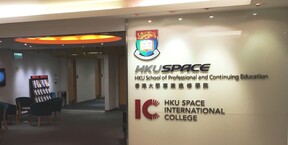 With the motto "Education with a Global Vision", HKU SPACE International College was established in 2003 to offer full-time undergraduate programmes to sub-degree holders. In the past 14 years, over 7,000 sub-degree graduates obtained a bachelor's degree through the College. Recently, full-time business and IT programmes at year-one entry-level have been made available for IB/HKDSE graduates.
In 2018/19, the College is offering more than 25 full-time undergraduate programmes between a duration of 10 and 24 months. All programmes are delivered in collaboration with public universities in the UK, Scotland and Australia.
As the demand for postgraduate qualification is on the rise, the College also offers full-time postgraduate diploma and master's programmes that cater for the needs of the degree holders. The College has put its full support behind arts and media education at postgraduate level through the launching of two master's programmes in 2016. The MA Arts and Cultural Enterprise, a new initiative offered in collaboration with Central Saint Martins (CSM), University of the Arts London, aims at nurturing multi-skilled talents who can both realise creativity and manage arts and cultural businesses. The MA Media, Communications and Critical Practice, in collaboration with London College of Communication, University of the Arts London (UAL), focuses on social media and cultural practices.
The College also offers executive courses in collaboration with Central Saint Martins (CSM), University of the Arts London. Led by experienced academics and practitioners from the UK, our executive courses offer inspiring and stimulating practice-based insights and allow excellent opportunities for meeting with different senior executives from across the region. Equal emphasis has been put on local relevancy, combining global leading research and practice with local experience which will enable the utilization of context and perspective when making business decisions.
List of heads:
Departmental Name
Head
Centre for International Degree Programmes
Jennifer Ng
Centre for International Degree Programmes
Dorothy Chan
Centre for International Degree Programmes
Eddy Lee
Centre for International Degree Programmes
Chan Fun-ting
Centre for Degree Programmes
Ken Wong
International College
International College

Karen Chan

(Acting)