Main content start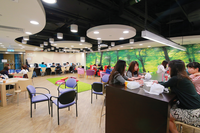 Reasons for Studying at International College
Selecting a good university that can offer you with the best in academic excellence, career prospects and professional recognition is important. International College takes pride in providing you with these, and much more to every young adult.
Academic Excellence

Collaborating with 10 world class universities, with some ranked in the world's top 100*, the College provides you with a wide range of university programmes at level. Students completed their full-time programmes shall be conferred with the identical awards as those studying on home campuses.
Career Prospects

Our degree graduates are highly regarded by employers, local and overseas universities. According to the Graduate Survey 2021, 91.1% of the College graduates secured at least 1 full-time employment in less than 3 months after graduation.
Value for Time

Students holding Associate Degree or Higher Diploma qualifications can complete their undergraduate study in 10 to 24 months, depending on the nature of programmes.
Competitive Fee Level

Tuition fees for all undergraduate programmes (senior-year entry) range from around HK$81,000 to HK$192,000, comparable to the fee level of local bachelor's degree programmes.
Global-local Teaching

Programmes in the College are delivered by local lecturers and visiting lecturers from overseas, including full professors from the UK and Australia.
Professional Recognitions

Many programmes offered by the College are accredited by local and overseas professional associations including ACCA, CIM, CIMA, CIPR, CPA Australia, HKICPA and HKIM, just to name a few Graduates can usually obtain maximum exemptions for their professional memberships.
Scholarships and Bursaries

International College and its partner universities offer over 75 scholarships and bursaries for full-time students in 2022/23 academic year.
Exceptional Facilities

Studying in HKU Town Centre, students can easily access to the libraries and sport facilities of the University of Hong Kong. Web-based blended learning facilities are also offered by all overseas partner universities.
All-rounded Student Supports

International College offers a full range of counselling support for students' personal development as well as tailor-made services for career developments.
Valuable Alumni Networks

Graduates will become a member of the valuable alumni networks of the awarding university, International College as well as HKU SPACE. Graduates can keep up to date with these networks; seek advice and gain support regionally and globally.
*according to QS World University Rankings 2022.