Main content start
E-learning Platforms
E-learning Platforms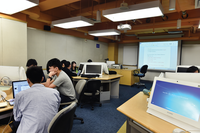 SPACE On-line Universal Learning (SOUL) 2.0
To provide students with continuous support in their studies, HKU SPACE has developed the Learner Portal, a key component of which is the HKU SPACE Online Universal Learning (SOUL 2.0) system. This system provides facilities such as web-based collaborative learning and communications, virtual meeting room, course material delivery, online assignment submission and marking and other e-learning features. Students will have full access to these facilities.
To learn more about SOUL 2.0 and Learner Portal, please click here.
​On-line Support Provided by Partner Universities
All overseas universities participating in International College programmes have online support systems of a nature similar to SOUL 2.0. Registered students of International College will be able to make full use of their overseas system provided by the partner universities. In addition, students will also have the right to access to the relevant database through the internet.