Main content start
Expanding Horizon Series 1 – Hand Drip Coffee Workshop 虹吸壼及手沖咖啡興趣班
Consultation Sessions and Events
Expanding Horizon Series 1 – Hand Drip Coffee Workshop 虹吸壼及手沖咖啡興趣班
《虹吸壼及手沖咖啡興趣班 (Hand Drip Coffee Workshop) ​》
什麼是手沖咖啡?
近年,手沖咖啡慢慢開始流行起來。在各式咖啡機遍地開花的時代,器具簡單、講究手感技巧的手沖咖啡儼然是一股返璞歸真的清流,讓眾多咖啡行家和生活達人都為之著迷。手沖咖啡為什麼迷人?一杯好的手沖咖啡關鍵是什麼?
IC 誠邀 Coffee Public Ltd 為同學舉辦虹吸壼及手沖咖啡興趣班! 導師屆時將會分享咖啡的歷史、品嘗方法和介紹手沖及虹吸式咖啡沖煮時咖啡豆研磨度,並會示範如何使用虹吸壼製作優質咖啡,或如何使用手沖壼輕鬆在家製作咖啡。同學更可以親身製作及互相品嚐虹吸式咖啡及手沖式咖啡,感受到咖啡無限變化的樂趣!
Manual coffee-making methods are becoming an increasingly popular option for home enthusiasts and coffee shop baristas alike. So, what is hand drip coffee? How do you make good hand drip coffee?
IC invited Coffee Public Ltd to conduct a Hand Drip Coffee Workshop! Tutor will share about the history of coffee, tasting tutorial, brewing tips and techniques. Besides, a demonstration will show how to use Siphon and Pour over Kettle to make a handcrafted coffee. Students are brought on a hands-on experience to tasting and brewing coffee using pour-over methods! You can compare two or more coffees, which are made in different ways.
Read the poster for more details. Places are limited.
Expanding Horizon Talk #1
| | |
| --- | --- |
| Date: | 25 Oct 2019 (Friday) |
| Time: | 2:00 pm - 4:00 pm |
| Venue: | UNC611, 6/F, United Centre, 95 Queensway, Hong Kong (Admiralty MTR Station Exit D) |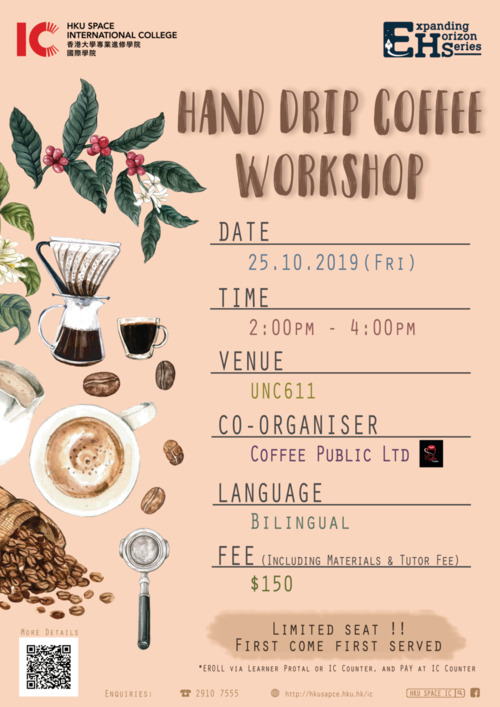 報名方法: 同學可於Learner Portal 或IC counter 報名,並於IC counter 繳交費用(只接受現金)
截止日期: 2019年10月18日(星期五) [名額有限,先到先得]
Registration: Student can register on Learner Portal or at IC counter, and pay at the IC counter, only cash is accepted.
Deadline: 18 Oct 2019 (Fri) [First-come-first-serve]
back