Main content start
Expanding Horizon Series 2 – Seminar on Depression 能「鬱」能「呻」
Consultation Sessions and Events
Expanding Horizon Series 2 – Seminar on Depression 能「鬱」能「呻」
《Seminar on Depression 能「鬱」能「呻」 ​》
抑鬱症,可以說是一種普遍的都市病。任何人無論男或女,都有可能患上抑鬱症。由於症狀可能在不知不覺間出現及慢慢惡化,患者很多時候都並沒有留意,又或試圖以其他方法麻醉自己,結果適得其反。
IC 誠邀香港大學李嘉誠醫學院名譽臨床助理教授 - 莊勁怡醫生為同學解說抑鬱症,從醫學角度出發了解抑鬱症的成因及症狀,更會與大家分享一些個案例子,以及介紹治療抑鬱症的方法。
莊勁怡醫生畢業於香港中文大學,現為精神科專科醫生,為公立醫院精神科病人服務;同時獲香港大學李嘉誠醫學院委任為名譽臨床助理教授。莊醫生曾服務於兒童及青少年精神健康中心,她認為教育對於各個年齡層的心理健康都很重要,並積極為社會團體作顧問及提供教育服務,藉以了解及幫助受情緒困擾的人士。
Depression is a very common mental illness that can affect anyone, men and women. It is more than feeling blue or down for a few days, but a longer-lasting condition associated with significant disablement in daily life.
IC invites Dr. Chong King Yee, a specialist in Psychiatry, to conduct a seminar on Depression for all teachers and students. Dr. Chong will share about the causes, symptoms and warning signs for Depression from medical view. Besides, some cases will be discussed. Students will be able to know more about mental health problems during the seminar.
Dr. Chong graduated from the Chinese University of Hong Kong in 2002. She had received broad psychiatric training form both University Hospitals. She was trained in Child and Adolescent Psychiatric team in Queen Mary Hospital and also trained in the Psychogeriatric Team in Kowloon Hospital. Dr. Chong believes education is important for the mental well-being of all ages. She is now teaching medical students at the University of Hong Kong as Honorary Clinical Assistant Professor.
Read the poster for more details. Places are limited.
Expanding Horizon Talk #2
| | |
| --- | --- |
| Date: | 30 Oct 2019 (Wednesday) |
| Time: | 1:00 pm - 2:00 pm |
| Venue: | UNC607, 6/F, United Centre, 95 Queensway, Hong Kong (Admiralty MTR Station Exit D) |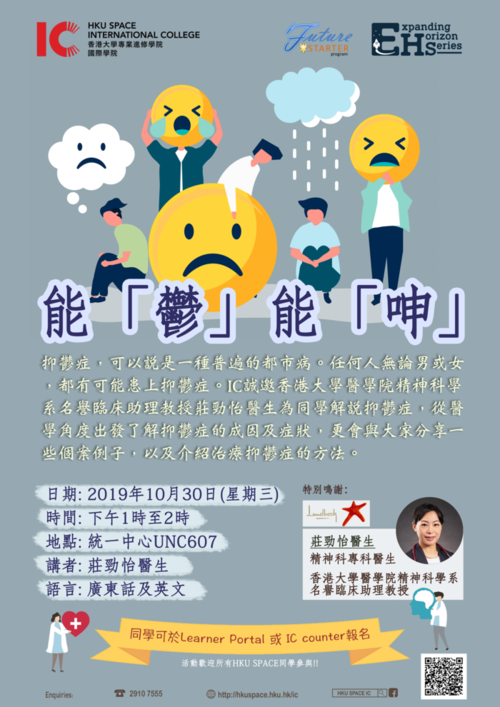 報名方法: 同學可於Learner Portal 或IC counter 報名
Registration: Student can register on Learner Portall or at IC counter
back