Main content start
Expanding Horizon Series #4 – Herbarium Pen Workshop 浮游花筆工作坊
Student Activities
Expanding Horizon Series #4 – Herbarium Pen Workshop 浮游花筆工作坊
Pens are essential in our daily lives. We need to use pens every day. IC will be holding a Herbarium Pen Workshop so that you can select your favourite dried flowers and make your own pen!
Join the workshop to have a mindful healing time while making a herbarium pen!
Login Learner Portal to enroll now!
我們的生活都離不開筆,每天我們也要用筆紀錄資訊。IC 將舉辦一個浮游花原子筆工作坊,同學在工作坊裏可以自行挑選喜歡的乾花等製作浮游花原子筆。
同學不妨參加工作坊,既能做一枝屬於自己的原子筆,又可以在製作的過程中療癒身心!
立即登入Learner Portal報名!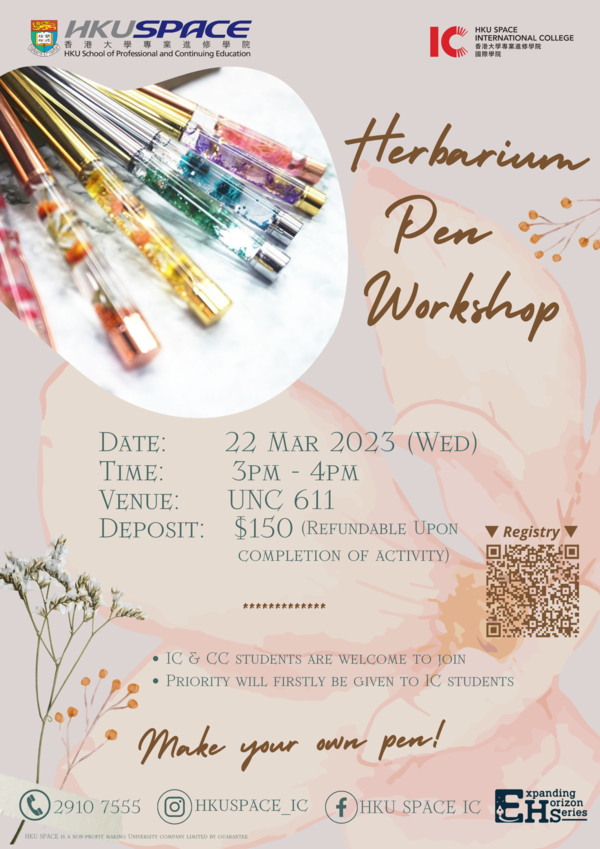 back