Main content start
Dr. Bill Damachis
Dr. Bill Damachis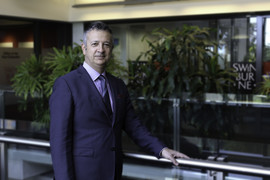 Hello my name is Dr Bill Damachis and I am the Dean of Transnational Education and Alliances here at Swinburne University of Technology. In 2017 Swinburne and HKU SPACE formed an important partnership to bring the Bachelor of Aviation Management to students in Hong Kong, and we launched our first intake in 2018. Since launching we have welcomed nearly 100 students to our program and our numbers continue to grow each intake.
This degree is intended to give you a point of difference with employers both in Hong Kong and internationally. The Bachelor of Aviation Management has been designed for students to gain a very strong professional understanding within the aviation industry and its associated environment along with important skills in organisational, regulatory, safety, technical and business management. Through this degree not only can students pursue a career in airline or airport management but also careers as pilots and cabin crew staff as well.
Students will have the opportunity to participate in the Australian Aviation Study Tour which is a critical component of this top up degree, where they will be able to attend lectures at the Swinburne Hawthorn campus and receive practical flying experience and undertake associated industry visits.
There is no denying that the aviation industry has been largely impacted this year because the COVID pandemic and the travel restrictions that have been put in place by different countries. However, the aviation industry is resilient and definitely will bounce back, and when it does they will need more people like you to support it in the post COVID world. As global citizens we will always have the desire to travel and explore.
When you study with us in Swinburne, Hong Kong in collaboration with our trusted partner HKU SPACE, you are studying at two internationally recognized institutions. Swinburne ranks very highly in all international and national rankings both for our teaching and our research.
The Australian government in its independent survey for quality indicators in learning and teaching has given us exceptionally high results when it comes to overall graduate satisfaction, satisfaction on teaching and satisfaction on student development, placing Swinburne as an elite university not only within the state of Victoria but nationally across Australia.
At the international level, The Times Higher Education University World Rankings 2021 and QS World University Rankings 2021 ranked Swinburne as one of the world's top 400 universities. In fact, since our establishment in 1908 more than 110 years ago, Swinburne has fostered close connections with industry with the aim of shaping the future through education. Industry connections and practical programs are in Swinburne's DNA. Now, more than ever, we are focused on creating seamless experiences from university to the world at large.
Swinburne in particular, has led in aviation education for the past 25 years within Australia and internationally and we are committed to transforming the future of education by giving students the knowledge, adaptability and experience they need to make a lasting impact on the workplaces of tomorrow.
At Swinburne, we are there to create future-ready graduates by taking our students outside the conventional classroom and introducing them to new and different ways of learning and thinking. Their future readiness comes from hands-on experience, from industry leaders, from the world around us, and from one another.
Overall, Swinburne has educated over 180,000 students, from 136 countries. All students, irrespective of their Swinburne teaching location, be that in Hong Kong, Vietnam, Malaysia or Singapore where we have teaching locations, or within our main campus in Melbourne, regardless of your mode of study, online or face to face, every student benefits from Swinburne's digital environment and innovative teaching staff and materials that are given to you.
We are focused not only on giving you the discipline knowledge but the professional skills and competencies that are in huge demand by employers around the world. You will be job ready by the end of your degree. In fact, as I mentioned before, at Swinburne, getting your job ready is at the heart of what we do. Swinburne is proud of our all-encompassing, student-focused culture and our reputation for using innovative digital solutions to provide a really personalised learning experience for each student.
We really hope to welcome you to our Bachelor of Aviation Management programme offered with our trusted partner here at HKU SPACE and hope that you will find your experience here to be both enjoyable and rewarding.
All the best with your studies and I look forward to meeting you when you commence your studies in the near future. Good luck and thank you.
Related Programme