Main content start
Graduate Prospects of Postgraduate Diploma in Media and Cultural Critique
Graduate Prospects of Postgraduate Diploma in Media and Cultural Critique
Announcement
22 October 2014
Graduates of the Postgraduate Diploma in Media and Cultural Critique are eligible to apply for the MA Media and Cultural Studies programme offered by the University of Sunderland
Graduates of the Postgraduate Diploma in Media and Cultural Critique

will have the opportunity and the required academic background to further their studies at master's level or above - thus, various options, both professional and academic would become available to them in the burgeoning fields of cultural industries, PR and media management.
Graduates are eligible* to apply for the MA Media and Cultural Studies programme offered by the University of Sunderland, with an exemption of up to 120 credits (equivalent to all coursework modules). Thus, they will only be required to take the dissertation module to complete the MA programme.
* where the graduate's first language is not English, additional evidence of language competency may be required.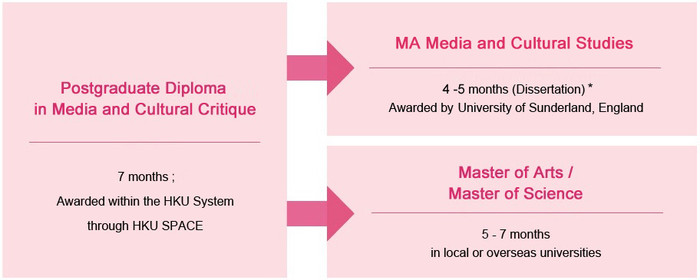 About Postgraduate Diploma in Media and Cultural Critique
This programme places an inter-disciplinary focus on popular culture, media practice and communications, not only suitable for media and cultural practitioners but also designed to prepare professionals for a second career in cultural and media-related fields. Within 7 months of study, students will gain the Postgraduate Diploma award within the HKU system through HKU SPACE, which is widely recognised by employers and universities.

Postgraduate Diploma in Media and Cultural Critique programme is recognised under the Qualifications Framework.
QF Level: 6
QR Registration No.: 10/000058/6
Validity: From 1 September 2010 to on-going
Programme Enquiries

2910 7626 / grace.yu@hkuspace.hku.hk (Ms. Grace Yu)
2910 7629 / mavis.mt.wong@hkuspace.hku.hk (Ms. Mavis Wong)