Main content start
One-to-one Online Consultation for BA (Hons) Contemporary Media Cultures for DSE/IB/GCE students
Consultation Sessions and Events
One-to-one Online Consultation for BA (Hons) Contemporary Media Cultures for DSE/IB/GCE students
28 Oct - 25 Nov 2022
SHARE
One-to-one Online Consultation for BA (Hons) Contemporary Media Cultures
for DSE/ IB/ GCE students
Come to talk to our programme leaders to know more about the programme, admissions requirements and learning schedule.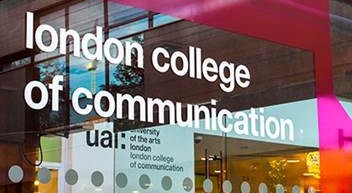 Information Seminars
Date
Time
Online (via Zoom)
28 October - 25 November
(Every Wednesday & Friday)

4:00pm - 6:00pm
(By appointment)
(September 2023 Intake, 3 years duration for year 1 entry)
The focus of BA (Hons) Contemporary Media Cultures is to examine the role media, cultural and creative processes play in shaping all aspects of contemporary social life. Students will learn about media and cultural theory with an emphasis on creativity, innovation, exploration, discovery and collaboration.
Programme Highlights
On campus transfer opportunities are available for students to finish their final year in London, with all HK credits being counted towards the qualification;
Students are eligible to apply for the MA Media, Communications and Critical Practice offered by UAL and other master's degree programmes in relevant disciplines;
Students have the opportunity to learn media production skills on top of media and cultural theories under the guidance of experienced media lecturers;
Work placement opportunities in the creative and cultural industries are available for students to explore their career orientation.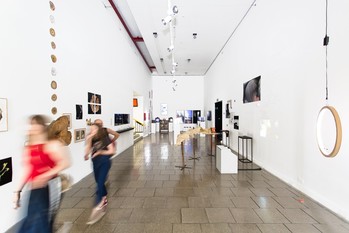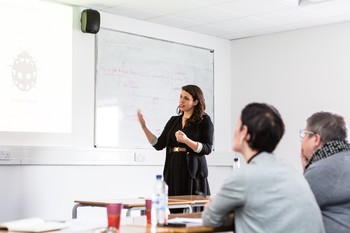 Upon successful completion, students will be awarded the Bachelor of Arts (Honours) Contemporary Media Cultures by the University of the Arts London*.
*University of the Arts London (UAL) is the world's 2nd best university for Art and Design in the QS World University Rankings by Subject in 2022, for the fourth year in a row.
Progression Chart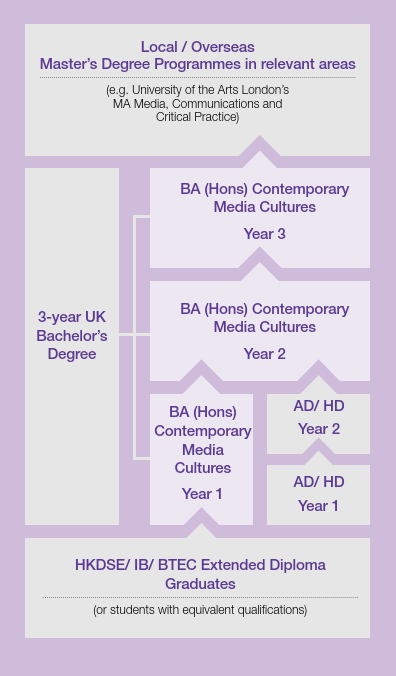 Qualifications from University are recognised internationally, and graduates of the BA (Hons) Contemporary Media Cultures are eligible to proceed onto Postgraduate Diploma (PgDip) in Media and Cultural Critique, awarded within the HKU system through HKU SPACE or MA Media, Communications and Critical Practice awarded by London College of Communication (LCC), University of the Arts London (UAL) and other local and overseas master's degree programmes.
Enquiries Mr Daniel Tang E: ug.comm@hkuspace.hku.hk
T: 2910 7613
This is an exempted course under the Non-local Higher and Professional Education (Regulation) Ordinance. It is a matter of discretion for individual employers to recognise any qualification to which this course may lead.
back