Main content start
Walk-in Consultation for BA Communication, Advertising & Public Relations
Consultation Sessions and Events
Walk-in Consultation for BA Communication, Advertising & Public Relations
Walk-in Consultation for BA Communication, Advertising & Public Relations
Date
Time
Venue
28 July 2018 (Saturday)
1:00 pm - 2:00 pm

Room 202, 2/F, Admiralty Centre, 18 Harcourt Road, Admiralty

(Admiralty MTR Station Exit A)
Related Programmes
Edinburgh Napier University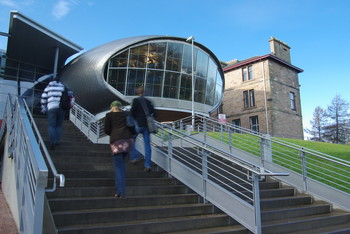 Edinburgh Napier University is one of the largest higher education institutions in Scotland with around 19,500 students studying professional and relevant courses at all levels of award. In 2015, Edinburgh Napier received a Queen's Anniversary Prize for Higher and Further Education. This highly prestigious prize is granted biennially to universities and colleges demonstrating work of a world-class standard of excellence.
Edinburgh Napier currently holds 5 QS stars for teaching, employability and internationalisation. 95% of their graduates are in work or further study within six months of graduating, putting Edinburgh Napier in the top 15 in the UK (HESA 2015/16).
Edinburgh Napier's reputation in the creative industries is forged by its dynamic programmes cultivating innovative and critical thinking in advertising, communication and PR, creative writing, design, film, journalism, music, publishing and television. Edinburgh Napier also offers Scotland's longest running and most successful Communication, Advertising & Public Relations programme.
愛丁堡龍比亞大學
愛丁堡龍比亞大學是蘇格蘭最具規模的高等育學府之一,現有約一萬九千五百名學生修讀各種專業學科資歷。愛丁堡龍比亞大學於2015年獲得英女皇高等教育年獎。此獎項每兩年頒發予具有世界級水準的優秀院校,可見獲此殊榮的愛丁堡龍比亞大學之卓越表現受肯定。
愛丁堡龍比亞大學師資優良,堅持以專業訓練為本的教學方針,畢業生向來獲僱主青睞,就業率亦於全英國高等院校中持續高企;逾九成半畢業生在畢業後六個月內已獲聘或繼續升學(英國高等教育統計局 2015/16)。
愛丁堡龍比亞大學在英國的創意業界中享譽盛名,並且跟廣告、傳播及公共關係、創意寫作、設計、電影、音樂、出版及電視製作等各個領域的業內人士聯繫緊密。愛丁堡龍比亞大學開辦的傳播、傳播及公關學士課程,則是當地同類課程中歷史最悠久的課程,有超過二十五年歷史。
Enquiries Ms. Stefanie Au E: ug.comm@hkuspace.hku.hk
T: 2910 7613
back