Main content start
At your service: Young skipper and his golden circle are at the helm of Kingsman in China Sea Race (SCMP)
College News
At your service: Young skipper and his golden circle are at the helm of Kingsman in China Sea Race (SCMP)
At your service: Young skipper and his golden circle are at the helm of Kingsman in China Sea Race (SCMP)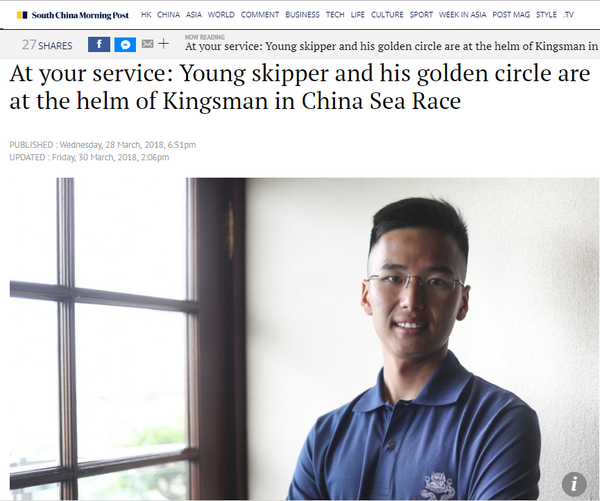 Liu, just turned 25, debuts as skipper for Kingsman, one of the 29 boats competing in the biennial Rolex China Sea Race starting at Victoria Harbour on Wednesday morning and ending in Subic Bay, the Philippines.
"I'm just thankful my crew trusts me," he said. "There are many more experienced members on board – some are my mentors, some just believe in me – but everyone has their firsts.
Liu took up the sport 18 years ago and currently sails with the Royal Hong Kong Yacht Club (RHKYC).
His parents began sailing in retirement and have competed in three China Sea Races. This year, however, they have passed the baton to their son, who is shaping up to be the face of the new generation of Hong Kong sailors.
Majoring in sports development and coaching at Northumbria University in the UK, Liu has delved deep into the local sailing scene and feels an even greater sense of responsibility to promote the sport among his peers.
Click here to read more.
Related Programme
back