Main content start
Bachelor of Science (Honours) Sport Coaching
Undergraduate Programmes
Sport Management and Sport Coaching
Bachelor of Science (Honours) Sport Coaching
運動教練學(榮譽)理學士
Course Code: 1745-DP095A (CE 68-530-00/91)
enquiries
Mr. Juno Chan
T: 2587 3153
Programme
Overview
Programme Overview
From the playground to the world stage, coaches make a difference. If you want to help people at all levels and ages achieve their potential, this course is for you.
This is a course specifically for future coaches and sports educators. This specialisation means that you'll have the skills, knowledge and understanding that may not be taught in a general sports degree.
You will be learning on some of the best campus sport facilities in the UK and rated Top 5 in the country by the Times Higher Education Student Experience Survey 2014.
90% of Sport Coaching students in the UK say that they are satisfied overall with their course (National Student Survey, 2016).
Programme Highlights
Unique top-up degree programmes offered by one of the top universities in the UK;
Completed in 18 months of full-time study;
Work placement opportunities in public and private sectors;
Applications considered from AD/HD holders in sport, exercise, coaching and related subjects;
Scholarships and bursaries available.
University of Northumbria at Newcastle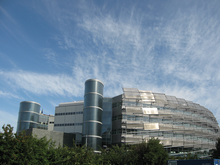 Northumbria is a research-rich, business-focused, professional university with a global reputation for academic excellence. It is based in the heart of Newcastle upon Tyne, which is regularly voted the best place in the UK for students. Northumbria is top ten in the UK for the number of graduates entering professional employment and nine out of ten of its graduates are working or studying six months after graduation. It is ranked 36th out of 117 universities in the 2017 Times Higher Education Student Satisfaction Survey. Northumbria has a campus in London as well as Newcastle, and work in partnership with other higher education institutions across the world attracting students from 136 countries.
At Northumbria, students enjoy an educational experience that will set them up for life, taught by experts in their field with great passion. Northumbria's courses are at the forefront of current knowledge and practice and are shaped by world-leading and internationally excellent research. Its courses are highly rated. In the National Student Survey 2013, several disciplines achieved 100% satisfaction and half scored 90% or more. It has a strong national and international reputation for academic quality.
Our Department of Sport, Exercise and Rehabilitation is part of Health & Life Sciences along with Psychology, Health, Education, Community/Social Work and Applied Sciences. Having no fewer than 11,500 full and part-time students, we offer a comprehensive range of expertise across the sport, psychology, health, education and science professions. The Department of Sport, Exercise & Rehabilitation is committed to delivering excellence in every aspect of work it undertakes. Our physiotherapy programme is rated #3 in the UK (Complete University Guide 2015). We also cover sport & exercise science, strength & conditioning, exercise behaviour, physiology, and sport marketing, sport management & sport coaching. Staff are internationally renowned within their disciplines and our research is pioneering helping to inform students, practitioners and Government policy. The department also provides bespoke help and advice with a range of industries and professional bodies.
紐卡素諾森比亞大學
紐卡素諾森比亞大學是英國最著名的現代大學之一,學生人數逾30,000名,在教與學兩方面的質素屢獲肯定,更連續三年享有The Times Best New University 之美譽。
生命科學學院提供一系列優質的學位、研究生、學術研究及顧問課程與服務。學院會定期檢討,務求課程內容合時,並緊貼學生個人及事業發展的需要,使具備相關學術資歷及專業技能的畢業生,在不同範疇的工作中都能夠成功發展事業。
Welcome Message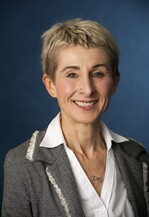 Prof Dianne Ford
Pro Vice Chancellor, Faculty of Health & Life Science
Northumbria has over 25 years' experience of working with education partners outside of the UK and our current student population is made up of more than 35,000 students from 136 countries, of whom 23% are international students, meaning we are a truly international University. In addition, we have been keen to foster strategic partnerships across the globe in territories such as Hong Kong, Malaysia, Indonesia, China, North America and Europe, which has resulted in over 6000 students studying our programmes overseas. Currently, Northumbria University is the largest provider of UK Higher Education within Hong Kong.
As such, Northumbria University's reputation for sporting excellence spans international boundaries but it is also rooted in an enviable standing within the UK. As one of the original providers of sport degrees, we have been providing sport graduates into the workplace for nearly 40 years. Rated as one of the top 10 sport universities in the UK, our graduates go onto work in many international sport organisations across the globe including: the International Olympic Committee, Adidas, Commonwealth Games, Barcelona Football Club, International Marketing Group and Nike.
All our Sport programmes are underpinned by an impressive record of high quality teaching and world-leading research, which means there is significant demand for our programmes internationally because they are known for producing graduates who are highly valued by international employers. Whether you study at BSc or MSc level, our Sport programmes have been intentionally designed with Continuing Professional Development at their core so that our graduates meet and exceed the increasing expectations of such a highly progressive industry.
Professor Dianne Ford
Faculty Pro Vice Chancellor
Faculty of Health & Life Sciences
University of Northumbria at Newcastle
Content and
Teaching
Programme Structure
The entire Bachelor of Science (Honours) Sport Coaching programme comprises 360 credits in total. Students enrolled in the programme are required to take 120 credits worth of modules each year and normally complete the entire programme in three years of full-time study in the UK.
In Hong Kong, graduates of the Higher Diploma in Sport Coaching and Sport Performance awarded within the HKU system through HKU SPACE are exempted from 180 credits. Students with maximum credit exemption will be required to undertake seven modules and a dissertation over three semesters of study to gain a further 180 credits to be eligible for graduation.
Year
Semester
Module Title
Year 2
Semester 1
Developing Athlete Potential
Sport Research in Practice
Coaching Skills and Practice
Year 3
Semester 2
Coaching Concepts and Behaviour
Talent ID and High Performance Coaching
Applying Principles of Coaching Science
Semester 3
Professional Development Through Sport
Sport Development, Management and Coaching Dissertation
The above programme structure is intended for use as a guide by prospective students. The University of Northumbria reserves the right to vary sequencing of modules within the structure.
Duration of Study
With maximum exemptions granted, students can complete the enrolled programme in 1.5 years.
Teaching Mode
All modules will be taught through face-to-face classes conducted by HKU SPACE lecturers that may be supplemented by occasional seminars held by UNN staff. Each module comprises of both face-to-face teaching and independent learning arrangement.
Assessment
The programme incorporates a wide variety of assessment methods enabling the ways in which student achievement is measured and evaluated to be appropriate to the learning outcomes of each module. Appropriate techniques are chosen to fit the subject and context for the students involved. The range of assessment methods includes: porfolios, essays and assignments, oral presentations, article reviews, coaching plans, poster presentation, project reports, literature reviews and group assessments. Student achievement is assessed through reference to a set of generic grade descriptors (provided to students via a student handbook) with specific marking criteria identified within each module outline.
Teaching Staff
In association with University of Northumbria at Newcastle
Programme Leaders

COOK, Paul

(Northumbria)

BSc, MA Plymouth; PhD Northumbria

WHARTON, Karl

(Northumbria)

BEd Hons, PG Dip Durham

TAM, M.L.

(HKU SPACE)

MSc Lough

Programme Manager

WONG, Beatrice P.Y.

(HKU SPACE)

BA (Hons.) BUHK; MSc HKU

Teaching Staff - University of Northumbria at Newcastle

| | |
| --- | --- |
| BRUCE, Claire | BSc Sheffield; MSc, PhD candidate Northumbria |
| HALL, Edward | FDSC Northumbria; BSc Leeds; MSc Lough; PhD Edinburgh |
| HARVEY, Phil | BSc (Hons) Teeside, MBA Durham |
| HAYMAN, Rick | BSc (Hons), MSc Manchester Metropolitan; PGCE , PhD Lancashire |
| THORNTON, Claire | BSc De Montfort, MSc Staffordshire; PhD Derby |
| RADLEY, Rebecca | BA (Hons), PG Cert Northumbria |
| WHARTON, Karl | BEd Hons, PG Dip Durham |

Teaching Staff - HKU SPACE

| | |
| --- | --- |
| CHAN, Herman K.H. | MEd HKU; PhD Queensland |
| HO, Jackson C.S. | BEd (Hons) (PE) Liverpool; MEd (PE) HKU |
| KWONG, Cherie C.H. | BBA CUHK; MScoSc HKBU |
| LI, C. K. | PgDip Strathclyde; MPhil CUHK |
| LIU, Raymond Y.K | BEd Chester; MPhil Loughborough; PhD Loughborough |
| TAM, M.L. | MSc Lough |
| TSANG, Eric C.K. | BEd CUHK; Med CUHK; PhD Nottingham |
| VERONIKA, Partikova | BEd Masaryk; MEd Masaryk; PhD Candidate Baptist |
| WONG, Beatrice P.Y. | BA (Hons.) BUHK; MSc HKU |
Award and
Careers
Award
Upon satisfactory completion of the programme, students will be awarded the Bachelor of Science (Honours) Sport Coaching by the University of Northumbria at Newcastle.
Work Placement
Work placement opportunities are available in the module Professional Development Through Sport and students have had volunteering opportunities with organisations such as the Hong Kong Schools Sports Federation, Leisure and Cultural Services Department, National Sports Associations, NGOs and private clubhouses.
Career Opportunities
The sports and recreation sector is one of the most dynamic industries globally and demand for jobs is high. Many of our students gain graduate based work very soon after graduation in our sport-related undergraduate programmes. Graduates work in a variety of jobs and for different organisations including commercial and public sector positions. Recent graduates have taken posts within a wide range of fields including: sport coaching, event management, sport development, sport marketing, sport media, manufacturing and retail, facility management and clubhouse management.
Further Studies
University of Northumbria qualifications are recognised internationally. Upon completion of the Bachelor of Science (Honours) Sport Coaching programme, graduates in Hong Kong are eligible to apply for entry to the Postgraduate Diploma in Sport and Recreation Management offered by HKU SPACE.
Alternatively, graduates may apply for entry to the MSc International Sport Management offered by UNN in the UK, and students may be recognised for fee discounts and scholarships.
Fees and
Funding
Tuition Fee
The tuition fee for 2019/20 intake is HK$131,490 for the whole programme, payable in three installments. The fee covers charges for all lectures, seminars, tutorials, marking of assignments, examinations and registration.
* The tuition fee is reviewed annually and is subject to change without prior notice.
Scholarship and Bursaries
1) University of Northumbria at Newcastle Scholarship
Scholarships will be given by The University of Northumbria at Newcastle to new student with outstanding achievement in their Associate Degree/ Higher Diploma/ Advanced Diploma study for enrolling in the Bachelor of Science (Honours) Sport Coaching programme. The amount of scholarship is HK$10,000.
2) Paul Wong Scholarships/ Vincent Wong's Young Scholar Awards/ HKU SPACE IC Bursaries
3) Western Harbour Tunnel Elite Athlete Education Scholarship
The scholarship is awarded to an elite athlete who does not currently receive financial support for the BSc (Hons) Sport Management or BSc (Hons) Sport Coaching. The amount of the scholarship is in the region of HK$12,000 – HK$40,000.
Application Deadline : May 31st 2019
If you have any enquiries, please feel free to contact HKU SPACE Sport, Exercise and Recreation Management subject group at: 2587 3153 or email to louisa.chu@hkuspace.hku.hk
4) IC Scholarship
(for all CC and HPSHCC AD/HD Graduates)
Applicants from HKU SPACE CC/HPSHCC graduates or alumni are entitled to a scholarship of HK$5,000 for enrolling an IC undergraduate programme in 2019/20. If you achieve a CGPA of 2.8 or above in your sub-degree programme, you will be awarded an additional incentive of HK$5,000 (total scholarship amount: HK$10,000).
To be eligible for the scholarship and/or the incentive, you are required to pay the deposit as stipulated in the conditional offer letter or the tuition fee as stipulated in the final offer letter, whichever applicable, on or before the payment due date. The total scholarship amount (either HK$5,000 or HK$10,000) will be disbursed to you after the commencement of the programme on which you have successfully enrolled.
Entry
Requirements
Entry Requirements
1. Applicants shall hold a Higher Diploma in Sport Coaching and Sport Performance awarded within the HKU system through HKU SPACE, or an equivalent qualification from a recognised institution;
2. Applicants, who are graduates of programmes taught in English, are normally regarded as demonstrating the required English Proficiency. In other cases, IELTS 6.0 is required.
3. Applicants may be required to attend an interview and/or an English test.
Who should be interested in the programme?
The programme is designed for those who possess the Higher Diploma in Sport Coaching and Sport Performance awarded within the HKU system through HKU SPACE, or equivalent. However students demonstrating a background in sport on the basis of holding Associate Degrees and Higher Diplomas in related areas may be considered equivalent by UNN such as sport coaching, fitness, exercise, strength and conditioning, rehabilitation and sports therapy, sport development and Physical Education.
Student Work
and Activities
A group of student visited University of Northumbria at Newcastle in 2016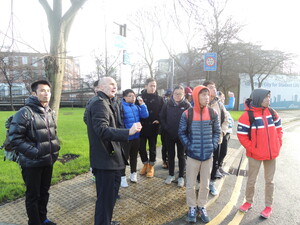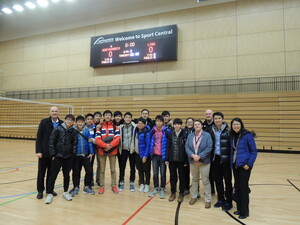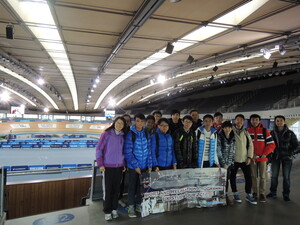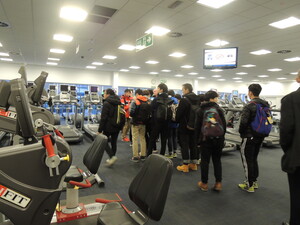 HKU SPACE Sport and Recreation Professional Partner Presentation Ceremony 2015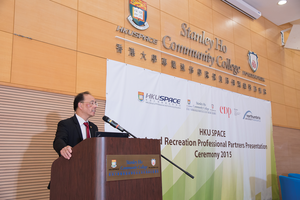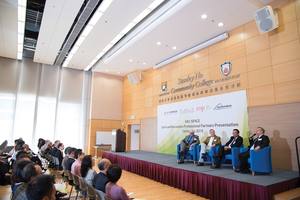 Expanding Horizon Talk Series: Achieving Excellence
Case from Sport by:
Law Sum Yin Geng Xiaoling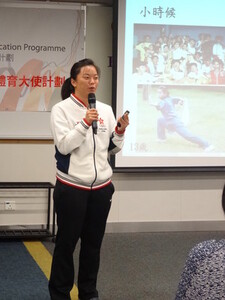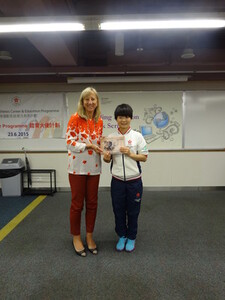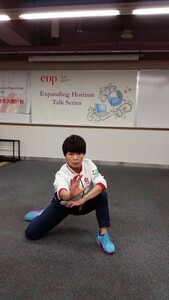 CSM London Summer Study Programme
This programme organised by IC provides a valuable opportunity for students to enroll into a short course in Central Saint Martins College of Arts and Design (CSM), one of the world's leading institutes for arts and design education with 150 years of history.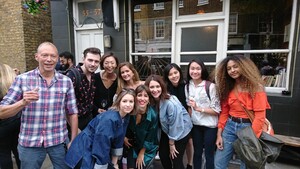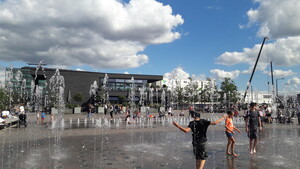 Note(s)
QF This programme is recognised under the Qualifications Framework. For details of the QF level, registration number and validity period, please visit: www.hkqr.gov.hk.
This is an exempted course under the Non-Local Higher and Professional Education (Regulation) Ordinance. It is a matter of discretion for individual employers to recognise any qualification to which this course may lead.