Main content start
New overseas success as first UAL students graduate in Hong Kong(UAL news)
College News
New overseas success as first UAL students graduate in Hong Kong(UAL news)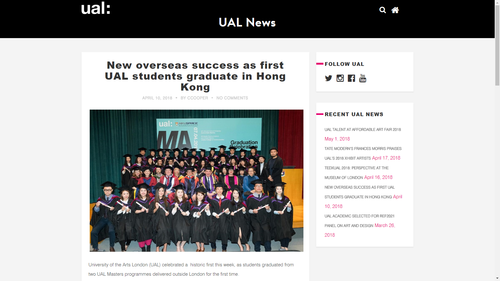 University of the Arts London (UAL) celebrated the very first on 10 April, as students graduated from two UAL Masters programmes delivered outside London for the first time.
The programmes, namely, MA Arts and Cultural Enterprise (Central Saint Martins) and MA Media, Communications and Critical Practice (London College of Communication) are provided exclusively in London and Hong Kong, by UAL accredited partner institution, HKU School of Professional and Continuing Education (HKU SPACE).
For details, please click here.
Related Programmes
back