Main content start
Bachelor of Science (Honours) Business Management
Undergraduate Programmes
Business and Management
Bachelor of Science (Honours) Business Management
商業管理學(榮譽)理學士
Course Code: 2045-DP048A (CE 68-843-00/21)
Not Accepting Application
enquiries
T: 2867 8462
E:
ftbm.plymouth@hkuspace.hku.hk

Programme
Overview
Programme Overview
The Bachelor of Science (Honours) Business Management programme aims to ensure that students develop a broad understanding of the diverse, complex and dynamic nature of management. The programme curriculum is both international and practical in its content. Students will acquire management skills as well as intellectual capabilities that will enable them to perform effectively as managers, thus enhancing their employability and facilitating their careers in management.
Programme Highlights
Exploring the diverse, complex and dynamic nature of management;
Providing practical theories and skills to enable graduates to effectively manage staff and projects in their future career;
Reviewing international dimensions of business management;
Consisting of academic analysis and a broad range of transferable skills in management that enhance employability.
Programme Information & Sharing from Programme Leaders
University of Plymouth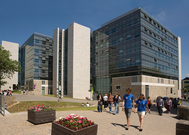 Plymouth is a dynamic and distinctive university that strives for the highest quality in all that it does. It is a *top 50 research institution with genuine clusters of world class research across areas as diverse as marine science and engineering, medicine, robotics and psychology – all supported by investment in leading facilities.
With more than 26,000 students benefitting from a Plymouth education, the University has a strong track record in teaching excellence and has one of the highest numbers of National Teaching Fellows of any UK university.
Plymouth is a truly global university, with a vibrant international student base and with partnerships in 30 countries. It continues to grow in stature and influence - a three-time winner of the Queen's Anniversary Prize for Higher and Further Education, the first modern university in the UK to launch its own medical and dental school and the only university to be awarded the Social Enterprise Mark.
*Research Fortnight Research Power League Table 2014
More Programmes:
Content and
Teaching
Programme Structure
The programme consists of nine modules, each module comprises 20 credits and 45 lecture hours.
Module Title
Credit

Level 6 Modules

1. Current Issues in Management

2. Global Enterprise

3. Strategic Management: Theory & Practice

4. Organisational Leadership

5. Project (Management Report – Qualitative Methods)

6. Project (Management Report – Quantitative Methods)

20 credits

20 credits

20 credits

20 credits

20 credits

20 credits

Level 5 Modules#

7. Enterprise and Innovation

8. Marketing Fundamentals

9. People Management

20 credits

20 credits

20 credits

Total
180 credits
# Modules 7-9 will be taught by HKU SPACE lecturers. The remaining modules will be co-taught by University of Plymouth and HKU SPACE faculty staff.
The above programme structure is intended for use as a guide to prospective students. HKU SPACE and University of Plymouth reserve the right to vary the structure.
Duration of Study
This honours degree programme is a fully-accredited undergraduate degree in the UK. With full exemptions granted, students can complete the programme in 18 months.
Teaching Mode
The teaching methods include lectures and tutorials. Staff members consist of local and London-based lecturers.
Assessment
Assessment is based on a combination of regular assessment, examinations or projects.
Award and
Careers
Award
On completing their study, graduates will be awarded the Bachelor of Science (Honours) Business Management by University of Plymouth.
Career Opportunities
The programme is developed with a focus on business management to ensure graduates' skills meet the needs of the market. Graduates will be highly employable with the skills and knowledge required for careers in a broad range of business fields that include organisational management careers ranging from private to public sectors.
Further Studies
University of Plymouth qualifications are well-recognised internationally. Graduates of this programme may pursue further studies in business management, managerial leadership, international management or business-related disciplines at the postgraduate level.
Fees and
Funding
Tuition Fee
The tuition fee* for 2022/23 intake is HK$105,000, payable in three instalments.
*The tuition fee is reviewed annually and is subject to change without prior notice.
Financial Assistance Schemes
University of Plymouth's Bachelor of Science (Honours) Business Management programme delivered in Hong Kong is successfully accredited by the Hong Kong Council for Accreditation of Academic and Vocational Qualifications (HKCAAVQ). Full-time students are eligible to apply for Hong Kong government grants and low-interest loans, i.e. Financial Assistance Scheme for Post-secondary Students (FASP) and Non-means tested Loan Scheme for Post-secondary Students (NLSPS). For details, please refer to www.wfsfaa.gov.hk/sfo.
IC Scholarship
(for all CC and HPSHCC AD/HD Graduates) 
Applicants from HKU SPACE CC/HPSHCC graduates or alumni are entitled to a scholarship of HK$7,000 for enrolling on an IC undergraduate programme in 2022/23. If students achieve a CGPA of 2.8 or above in your sub-degree programme, they will be awarded an additional incentive of HK$5,000 (total scholarship amount: HK$12,000).
To be eligible for the scholarship and/or the incentive, students are required to pay the deposit as stipulated in the conditional offer letter or the tuition fee as stipulated in the final offer letter, whichever applicable, on or before the payment due date. The total scholarship amount (either HK$7,000 or HK$12,000) will be disbursed to students after the commencement of the programme on which they have successfully enrolled.
Entry
Requirements
Entry Requirements
Applicants shall:
A.
I. Hold a recognised Advanced Diploma or Higher Diploma/ Associate Degree in a business-related discipline awarded within the HKU system through HKU SPACE;
or
II. a) Hold a recognised Advanced Diploma or Higher Diploma/ Associate Degree in a business-related discipline awarded by a recognised institution;
and
b) Provide evidence of English proficiency, such as:
HKCEE English Language at Level 2; or
HKCEE English Language (Syllabus B) at Grade E (Grade C in the case of English Language (Syllabus A)); or
HKDSE Examination English Language at Level 2; or
an overall band of 6.0 in the IELTS; or
a score of 500 in the paper-based TOEFL or a score of 173 in the computer-based and a score of 4.5 in the Test of Written English
AND
B. Preferably have 2 years full-time work experience or 4 years part-time work experience.
Mature students (according to University of Plymouth regulation) and applicants with other equivalent qualifications will be considered on a case-by-case basis.
Applicants who do not have a business-related academic qualification may be required to take additional module(s) on a case-by-case basis before the start of the programme.
Student Work
and Activities
CSM London Summer Study Programme
This programme organised by IC provides a valuable opportunity for students to enroll into a short course in Central Saint Martins College of Arts and Design (CSM), one of the world's leading institutes for arts and design education with 150 years of history.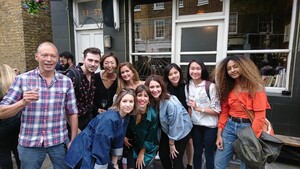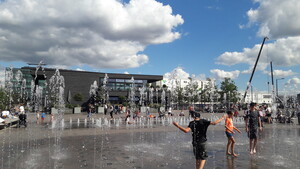 Note(s)

This programme is recognised under the Qualifications Framework. For details of the QF level, registration number and validity period, please visit: www.hkqr.gov.hk.
This is an exempted course under the Non-local Higher and Professional Education (Regulation) Ordinance. It is a matter of discretion for individual employers to recognise any qualification to which this course may lead.